2022 Summer Outdoor Movie Nights
The Music Man (1962)
Due to weather, join us INSIDE the Museum!! 
Nothing says summer like an outdoor movie night! Join us once again under the stars as we enjoy classic movies in front of the 1864 Weinhold Log Cabin. Bring a blanket or chairs, grab some bug spray, and don't forget the family! These events are Free and open to the public. Concessions will be for sale.
And don't forget to come early! Classic cartoons followed by an introduction to the film will start approximately 25 minutes before the movie.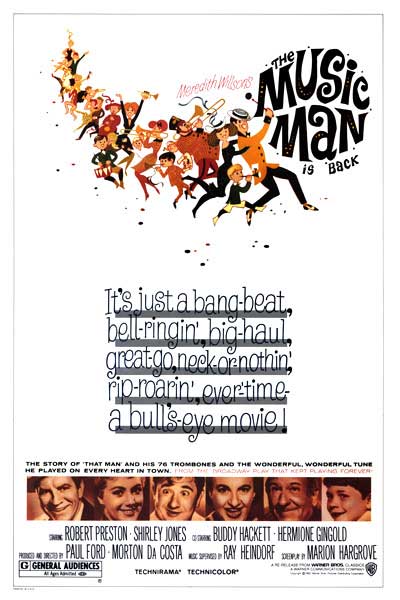 Based on the hit Broadway musical, The Music Man is celebrating its 50th Anniversary since it's theatrical debut! Featuring an all-star cast of Hollywood and Broadway stars, the story follows traveling sales man, a.k.a. con artist, Harold Hill who targets the naive residents of a small town in 1910s Iowa by posing as a boys' band leader to raise money before he can skip town. When he falls in love with the town and the local librarian, will his foot finally get caught in the door?
The 2022 Outdoor Movie Night Line Up:
– The Pajama Game (1957), June 17 at 8:45pm – Celebrating Doris Day's 100th Birthday!
– Walt Disney's Snow White (1937), July 15 at 8:45pm
– The Music Man (1962), August 19 at 8pm – Celebrating its 50th Anniversary!