Seeing Double in the Classic Walt Disney Live Action Film "The Parent Trap" (1961)
A Classic Hollywood Blog
What a fabulous turn out Friday night for our July Outdoor Movie Night! We had one of our largest attendance numbers for these events, and saw lots of new faces as well as families introducing their kids to "The Parent Trap" (1961) for the first time. It was a blast! We played I Spy, enjoyed more classic Walt Disney cartoons featuring Goofy, Micky and Donald, and learned all about the making of this original classic. Our "Parent Trap" watch party would not be complete without our awesome concessions volunteers, Petra and Patience, who dressed as "Twins" to match my Camp Counselor outfit!
Thank you to everyone who came out and made the evening so much fun! We are thrilled to see more and more people coming out for our programming. We hope to see you all at our final Outdoor Movie Night of the summer on Friday, August 20th to watch "Newsies" (1992), starring Christian Bale! Remember, dusk will be much earlier that evening, and the Museum will be open for Free admission starting at 6:30pm for special extended hours just for the August movie!
In July we were celebrating a special anniversary! The original Parent Trap was released in 1961, making this it's 60th anniversary! Can I hear a Happy Birthday?
Whether you're a Baby Boomer who saw it in theaters in 1961, or you're part of a new generation seeing it for the first time, this film will leave you cheering and believing that you're really seeing double! Filmmakers were terrified the public wouldn't believe it, but audiences really thought there were two Hayley Mills! I know I did as a little girl.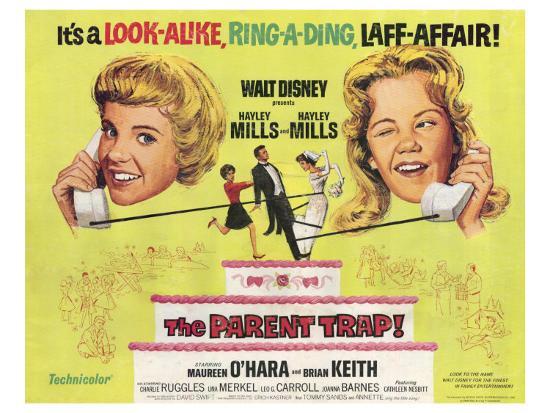 The 1961 film is based on a German book called "Lottie and Lisa" about two twins separated at birth who meet at camp. Screenwriter and director, David Swift, changed the location from Germany, to California and Boston. Swift had no idea how to film pretend twins but thanks to Ub Iwerks, they used 3 groundbreaking techniques.
Seeing Double, But How? 
These techniques included – Split Screen, Over the Shoulder Shots, and Sodium Vapor (known today as Blue or Green Screen). Both Split Screen and Over the Shoulder shots were done using a body double for Hayley Mills. Split screens called for a lot of extra work and editing, but once Walt Disney saw the results of the test shots, he ordered the number of scenes to be doubled. To do this, the traveling matte process was used on an optical printer camera to shoot two different exposures. The Black matte covered half or a section of the camera to only that section of the scene. They then rolled the film back to where they started, had Hayley and her "twin" switch costumes and makeup, but everything else stayed the same – the camera, the lighting, the set, the other actors – and they filmed again, this time covering the opposite side of the camera with the mat and Hayley playing the other twin. The result was two different takes filmed virtually at once. And the technique put Disney leaps and bounds ahead in Hollywood.
To avoid visual splits in the screen, they used the background to disguise any lines. They made sure there was something already there creating a natural break (door frame, bed post, camping tent rode, etc.), or a space that could be easily blended. This process required that the actors be in exactly the right place each time. The crew put footprints on the floor to help them spot where they were supposed to be. If they stepped out of their bubble, they disappeared! If you watch really carefully in the "Let's Get Together" scene, you can see Hayley Mills' arm disappear when she waves it out and up. Oops!
The Green Screen process that is used so often today was actually invented by Ub Iwerks, who started out as a high school dropout turned early Mickey Mouse Cartoonist. He became one the leading creative technology engineers at Disney, and in Hollywood. Early on the process was used to combine animation with real life people on film. It was used in 1944's The Three Caballeros produced by Disney, and then copied by MGM in 1945's Anchors Away and 1953's Dangerous When Wet.
This process was used in The Parent Trap for scenes like when "Sharon" is with her mother in Boston and they are having a picnic and walking in the park. Other films were using rear projection to fake a location.
Hayley Mills 
The top billing of the film goes to Hayley Mills…and Hayley Mills! Disney wanted her name twice to capitalize on her popularity.
Born and raised in England, (fun fact: this is why one of the twins in the 1998 Parent Trap remake is British!) Hayley had her big breakout role in British film Tiger Bay (1959), starring opposite her father Sir John Mills.  Her father was an acclaimed actor and her mother was a playwright, so she grew up around theater and felt very comfortable in it. Walt Disney was really impressed with her natural ability and charm, and decided she was perfect to play Pollyanna in 1960.
Also directed by David Swift, Pollyanna became a huge success, and Hayley became a star. For her role as Pollyanna, she received a special Oscar, the last Juvenile Oscar the Academy gave out. She wasn't there to accept it, in fact, she didn't even know about the ceremony, so fellow Disney star and Mouseketeer Annette Funicello accepted the award on her behalf from former child star Shirley Temple.
Fun Fact: This wasn't the only time that Hayley Mills and Annette were connected. The opening song in this film, "The Parent Trap," written by the Sherman Brothers, was sung and recorded by Annette and co-star Tommy Sands who were on the lot filming Babes in Toyland. You also hear Annette singing "Let's Get Together" during the dance at camp.
The Parent Trap was picked as a film specifically for Hayley to do and it required a lot more preparation. She had to learn to speak without a British accent, and instead switch between a Boston and California accent depending on which twin she was playing. It got a little confusing, especially once the twins switched places. In fact, Hayely Mills admitted in interviews that she didn't even know who she was supposed to be all the time!
Everyone from Walt Disney, to the director, to the established actors playing the parents were extremely impressed with her talent, dedication, and the fact that she hardly needed any acting direction. She went on to make a total of 6 films at Walt Disney Studios and if you haven't seen them all my personal favorites in addition to this one are – Pollyanna (1960), Summer Magic (1963), and That Darn Cat (1965)
Who's the Twin?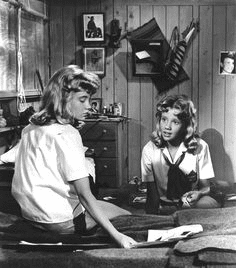 So we know, Hayley Mills really wasn't a twin, but who played her body double? In all the over the shoulder shots, shots from behind, or at a distance were actually Susan Henning-Schutte. The reason you haven't heard of her in the film was because in order to do the part, she had to sign away her right to screen credit. This way, the world would really believe there were two Hayleys. She still deserves a lot of credit though because she learned every line and was Hayley's acting partner throughout the film.
Although they looked very similar, even their mothers got them confused when they had the same clothes and wigs on, you can see Susan if you look closely in the film.
Bonus Fun Facts: The crew tried hard to disguise any difference though. Hayley's lips were fuller, so they rolled tissue paper and put it under her top lip. This made it very difficult for her to talk, so they ended up eliminating it. Hayley's nose was also fuller, so the makeup man made a cast of it and made Susan a rubber nose, which was just awful for her to wear on her sensitive skin. One day when "Uncle" Walt Disney, as he was affectionately called by everyone, was making his daily visit to the set, he noticed her poor red, irritated nose and put a stop to it.
Susan had to play the twin having her dress cut by Hayley at the dance and she was terribly embarrassed that her butt was hanging out for all the world to see. But said she got even, because Hayley was the one who had to actually walk into the dance that way in front of all the other kids! Hayley responded that she wore about 10 pairs of underwear underneath to ensure privacy!
Even though Susan doesn't receive screen credit in the film, when filming ended, "Uncle" Walt awarded her a "Duckster" for "The Best Unseen Performance by An Actress." A rare award, there are only a few Dusksters in existence. Susan went on to become Miss Teen USA in 1965 and in 1968 made a movie and TV special with Elvis, whom she reportedly dated afterwards.
A Fresh Start 
The film provided a chance for fresh starts for the actors playing the parents.
Brian Keith took on the role of the father for the first but not last time. He was an established actor who had played rough and tumble characters like cops, cowboys and other tough guys.  The Parent Trap was his first romantic and family comedy that led to other similar roles like in the Doris Day film With Six You Get Eggroll (1968), and the very successful comedy TV series, Family Affair (1966 – 1971).
Fiery redhead Maureen O'Hara played the twins' mother. Originally from Ireland (if you listen when she gets worked up, her accent slips out here and there), she was one of the top stars of the 1940s and 1950s with a successful career in everything from westerns and adventure films, to comedy and musicals. She might be most famous for her role as the mother in the Christmas Classic, Miracle on 34th Street (1947).
But her career came to a screeching halt when in 1957, scandal magazine Confidential published a slanderous false story that she was spotted making love in the balcony of Grauman's Chinese Theater. She sued the magazine and won, but her career had virtually disappeared due to the legal battle and bad publicity. She began her comeback in the prestigious and well-received British film, Our Man in Havana (1959) when the offer from Disney to star in The Parent Trap came.  Along with the offer, came a chance to fully redeem her reputation and reestablish herself in a family-friendly film.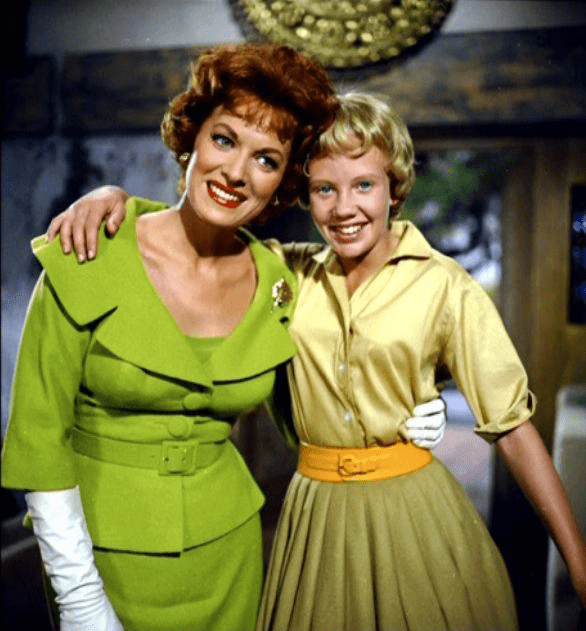 Reception 
When the film was released, it became an instant hit and continues to be one of the most fondly remembered Disney live-action films made from that era. Critics agreed that Hayley Mills was something special. The New York Times said the film "Should be most appealing to parents as well as to children, because of the cheerfully persuasive dual performances of Hayley Mills." Time Magazine called it "delightful" and The Sunday London Times compared Hayley to early film star Mary Pickford.
The song "Let's Get Together" sung by Hayley Mills became an unexpected hit topping the charts at #8. This launched a small singing career and songs were added to a few of her other Disney films.
Hayley Mills was inducted as a Disney Legend in 1998, the same year the remake was released starring Lindsay Lohan.
Fun Fact: When you do a comparison of the remake, look for Vicki who is in both movies!
Both the original Parent Trap and the remake hold a special place in my heart and my summer would not be complete without them. I know they will brighten your spirits and you'll join the ranks of the fans all over the world who still to this day write letters to Haley Mills telling her how much they love the film and find it empowering to see kids take charge of a situation and bring about a happy ending!
Contributed by Chloe Seider, Program Coordinator and Classic Film Buff