City of 4 C's Scavenger Hunt
We went on a bear hunt outside, now we're going on a cheese hunt inside!
Come to the Sheboygan County Historical Museum for our City of 4 C's Scavenger Hunt featuring cheese wedges! Did you know that cheese is one of the C's that made Sheboygan County famous? In fact, Plymouth is the Cheese Capital of the world! To celebrate that special C, we've hidden cheese wedges throughout the Museum and historical buildings for you to find! The Museum Mice had fun hiding these cute little pieces of cheese in some surprising and amusing places!
Come visit us at the Museum and go on our newest scavenger hunt! Fun for all ages, but especially the little ones!
The City of 4 C's Scavenger Hunt is included with regular museum admission:
Adults – $8
Senors 62 & up – $7
Ages 6 – 17 – $5
Ages 0 – 5 – Free
Members – Free
Sheboygan is historically known as the "City of 4 C's"….
C 1 – Cheese (The cheese industry – So many cheese makers!)
C 2 – Chairs (The chair industry – Sheboygan was home to many, many chair and furniture factories.)
C 3 – Churches (Sheboygan has historically always had a number of churches.)
C 4 – Children (Sheboygan has always been known as a great place to raise a family!)
Honorary C's include: Circuses, Coal, The Chordettes…Can you think of any other Shebogyan C's?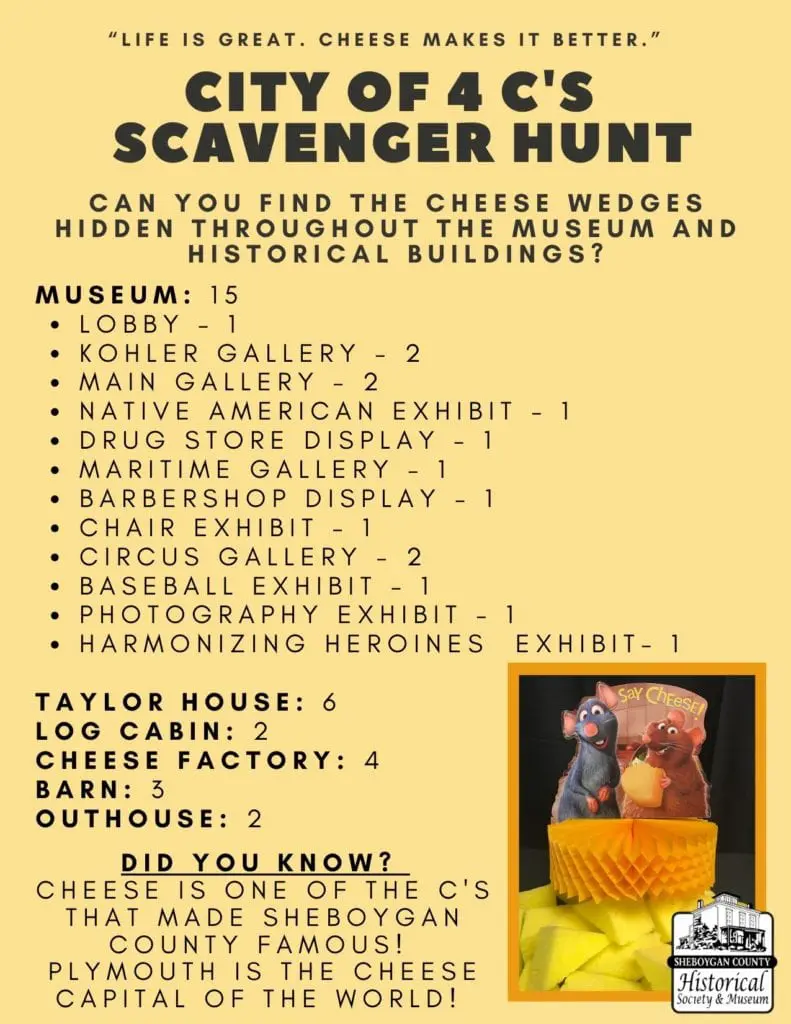 The Sheboygan County Historical Museum is open Monday – Friday 10am – 5pm and Saturday 10am – 3pm.
Please note that all visitors age 3 and up are required to wear a mask when visiting the Museum. If you do not have a mask, we are happy to provide one for you.