"Once upon a time, there was a little boy who decided that drawing superheroes was his only realistic option, if he couldn't actually become one."  ~Alex Ross

Join us for a Members Only Reception!
Everyone needs some inspiration and a hero these days. Marvelocity: The Art of Alex Ross provides both through the story of one of the greatest comic book artists of all time. Starting at the age of 4 with a Spidey drawing, Ross progressed through original comic book designs at age 13 to bringing to life some of the most iconic representations of the Marvel Universe. After three decades in the industry, his creations are still done one-hundred percent by hand and widely recognized as the basis for the look of some of the most popular Marvel characters today.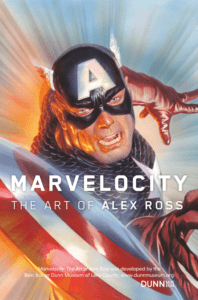 This is your chance to see original cover art, sketches, and more by this amazing artist that has shaped the look of one of today's most popular cultural phenomena. Light refreshments will be available and staff will be on hand to share more about the history and influence of comic art on the world.
---
Marvelocity: The Art of Alex Ross was developed by the Bess Bower Dunn Museum of Lake County, www.dunnmuseum.org. Locally supported by Bugle Comics LLC, Freaktoyz, and Boneck Printing.