16 Objects. 4 Divisions. What will reign supreme?
After a dominating run, the Garton Toy Kidillac returns for Museum Madness 2022 with hopes of a two-peat! The competition will be stiff. Expect to see an internal challenge from another beloved Garton Toy, memorabilia from H.C. Prange, a famous dress, an award-winning board game, and more!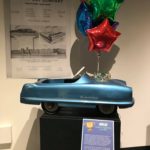 Join us for this online exhibition that brings 16 uniquely Sheboygan County objects from the Museum collection together for an epic tournament battle where YOU get to help decide the winner.  Download a Museum Madness Bracket 2022 to see how your choices stack up. For more information on the objects and to vote, visit the 2022 Museum Madness page here.
March 13 – Selection Sunday
March 17 – 20: Chairs Division and Churches Division Playoff Voting
March 21 – 24: Children Division and Cheese Division Playoff Voting
March 25 – 27: Quarter Final Round Voting
March 28 – 31: Semi-Final Round Voting
April 1 – 3: Final Round Voting
April 4: Champion Announced