Bring your curiosity and questions galore as Museum staff host another "Behind the Scenes" Work Day focused on the IMLS Inspire! Grant. Join us in collections storage to learn more about how the Inspire! grant is supporting the first ever inventory of the artifact collection, a diverse assembly of thousands of objects donated over the last century.
The Loft Storage area is home to our Holiday Memories Prange's mechanical animation collection, along with the Museum's collection of Sheboygan County made furniture and Garton Toy artifacts. This is a great chance to get up close with the artifacts, learn more about a major part of our efforts to collect, preserve, and educate about Sheboygan County history, and even get a sneak peak at this year's Holiday Memories animation.
Stop by anytime from 10:30 a.m. to 2:30 p.m. on Saturday October 8th to find out how the project ensures some of our most well-known artifacts will be around for generations to come. At 11:00 a.m. and 1:30 p.m., Collections Assistant Becca Schnabel will also offer two mini-presentations into the good, the bad, and the wrangling we have encountered so far.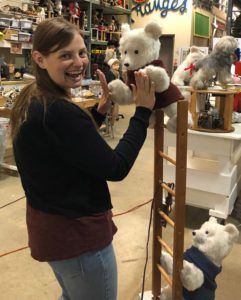 This program is included with regular Museum admission – $9 Adults;  $7 Seniors (62+)/ Active Military; $5 Ages 6 – 17; Free Ages 5 & under; Free Museum Members. Museum hours are Monday – Friday, 10:00 am – 5:00 pm and Saturday, 10:00 am – 3:00 pm.
*********
This project was made possible in part by the Institute of Museum and Library Services, Grant IGSM-249370-OMS-21. The views, findings, conclusions or recommendations expressed in this blog do not necessarily represent those of the Institute of Museum and Library Services.