Join us on Saturday, April 23 as two of our local comic creators share their talents! Stop by anytime between 11:00 am and 2:00 pm to see Sheboyganites Ken Bailey, creator of The Mighty Energy Girl, and Kurt Wilcken, creator of Hannibal Tesla Adventure Magazine in action and learn more about the different ways to create comics.
Ken Bailey is an old school artist, self-taught, and has been drawing and writing comic books since age nine. For him, each page still begins with pen and paper — first the panel outline, followed by text, character layout and action. After black-and-white hand inking, the page is scanned, printed, hand colored, then digitized again where a final digital clean-up might occur.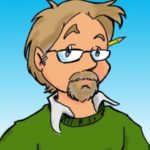 Kurt Wilcken is really a ninja cartoonist, drawing since he was knee-high to a bottle of India ink. Over the years, he drew comic strips and political cartoons for school newspapers, along with his own hand-made comics. During the 1990s, he produced materials for INNOVATION, Antarctic Press and Radio Comics.  Today, he does occasional freelance work in addition to his weekly web comic, Hannibal Tesla Adventure Magazine.
This special program is part of the traveling exhibit Marvelocity: The Art of Alex Ross on display at the Museum through June 25, 2022.  The exhibit and this program are included with regular museum admission – $9 Adults, $7 Seniors (62+), $7 – Active Military, $5 Youth (6-17), Free – Children 0-5, Free – Museum Members.