May Day Basket Campaign 2022
Celebrate May Day by spreading some love to your neighbors! The Sheboygan County Historical Museum invites you to make May Day Baskets to leave on your neighbors' doorsteps.
We brought back this old tradition to encourage and surprise our neighbors during the shutdowns in 2020. Let's keep the tradition alive and growing during this third year of the event. We challenge you to spread May Day Baskets, sweetness, and love all over Sheboygan County!
On Sunday, May 1st – Place your basket at the door or hang it on the doorknob, knock or ring the doorbell, and leave your surprise for your neighbors to find. Post a picture of your basket on social media with the tag #MuseumMayDay.
Paper Cup May Basket kits are available at the Sheboygan County Historical Museum now, and at  the Mead Public Library 3rd Floor Children's Library starting April 1 during hours of operation. A tutorial video with Chloe the Craft Elf is available on the Museum's Facebook Page and YouTube Channel.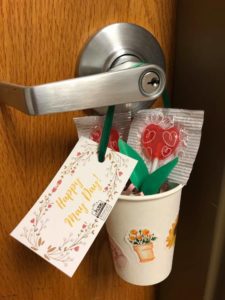 Other May Basket Kits are available at:
– The John Michael Kohler Arts Center in the Social STUDIO, starting April 1
– The Hello Happiness Creativity Center, starting April 1
– The Plymouth Public Library, starting April 18
– The Above and Beyond Children's Museum during their Spring Celebration, April 30, 10am – 12pm
– Bookworm Gardens will offer a tutorial video on Facebook
Supplies are limited at all locations. First come, first served. Thank you to our partner organizations for making this possible!
May Day, a celebration of the return of spring, goes back to ancient Roman times. As the Roman Empire spread through Europe, so did the festival. Traditions grew and changed becoming popular in countries such as Germany, Italy, England and Ireland. Beginning in the 19th century, May Baskets became a popular way to celebrate Spring, by sharing joy and appreciation with neighbors and loved ones on the first day of May.
You can also make a May Basket out of supplies you have around the house: construction paper rolled into a cone or weaved together, thrift store baskets, paper/plastic cups or bowls, recycled tin cans, and string or ribbon. Fill your baskets with flowers (fresh, fake, or DIY), a card or note of encouragement, candy, or even baked goods!  A perfect project for all ages. You'll also find Happy May Day tags at the Museum or download and print your own.