16 Objects. 4 Divisions. What will reign supreme?
Join us for this very special edition of Museum Madness as we celebrate the 100th Anniversary of the Historical Society! 2021 Winner, the Garton Toy Kidillac, and 2022 winner, the Jumes Restaurant Neon Sign, return to compete against 14 other uniquely Sheboygan County artifacts, all of which are among the artifacts featured as part of the Museum's celebratory exhibit 100 Years/ 100 Objects: A Century of Collecting.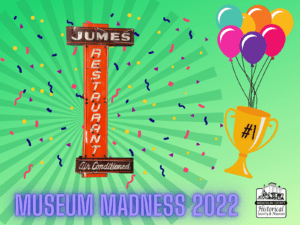 We are excited to once again have the objects on display this year, accompanied by an online exhibit. Vote online or in person to help us determine the winner in this epic tournament! Stop back on Selection Sunday to download a Museum Madness 2023 Bracket to see how your choices stack up and find out more about all of the Museum Madness 2023 competitors! Can't wait until then?? Check out the competitors from 2021 and 2022.
March 12, 2023: Selection Sunday
Learn more about the competitors here!
March 16-22, 2023: Chairs, Cheese, Children, and Churches Divisions Playoff Round Voting
March 23-26, 2023: Exquisite Eight Quarter Final Round Voting
March 27-30: Fabulous Four Semi-Final Round Voting
March 31-April 2, 2023: Centennial Champion Final Round Voting
April 3: Centennial Champion Announced