Kicking Off the Summer with the Greatest Game –
"The Pajama Game" (1957)!
A Classic Hollywood Blog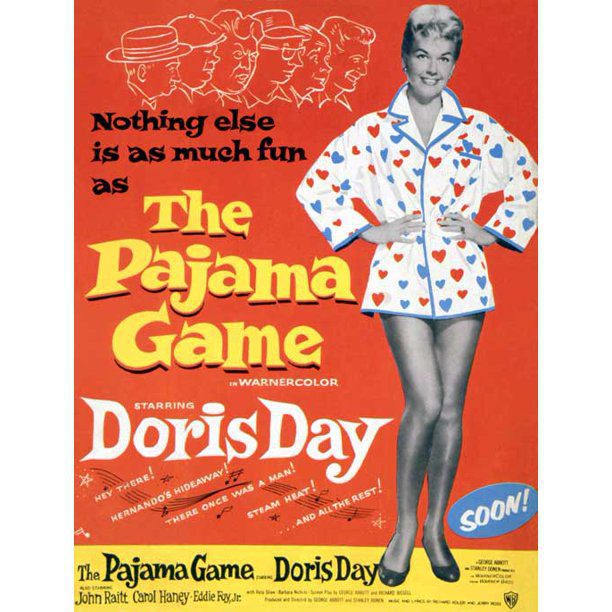 We kicked off our 2022 Summer Outdoor Movie Night series with The Pajama Game which was picked in honor of a special, big birthday! The film's star, Doris Day, would've celebrated her 100th birthday this year! 
It was a chilly June evening for our first movie, but that didn't stop familiar faces and lots of new ones from coming out! Some even brought a lovely picnic dinner with them. Dinner and a show! Bundled up and cozy close to family and friends, we enjoyed a classic Superman cartoon from 1941 before digging into learning about the film. Then as the sun slowly set behind the old barn, we enjoyed music as the opening film credits began to roll.
A Broadway Smash
This is one of many fabulous Doris Day films and one of my favorites! The Pajama Game is filled with fun dancing, music, and bright, colorful costumes. The 1957 film is based on the smash Broadway musical that opened in 1954 and ran for over 1,000 performances. The show was based on the novel "7½ Cents" by Dubuque, Iowa native Richard Bissell which he wrote after his experiences working in management for his family's pajama factory. Bissell joined with Broadway director George Abbott to write the musical version and they soon had a hit on their hands.
In addition to its sold out performances, the show won Tony awards for Best Musical, Best Choreography by Bob Fosse, and Best Supporting Actress went to Carol Haney who plays Gladys in both the show and the film. Carol Haney had started out as Gene Kelly's dance assistant at MGM before she made her stage debut in The Pajama Game which launched a successful stage and choreography career going forward. The stage production also launched the career of actress Shirley MacLaine who was Haney's understudy and stepped in when she broke her leg. 
Broadway to Hollywood 
In 1955, Warner Brothers purchased the film rights to the hit show. The director of the stage show, George Abbott, was asked to return and co-direct with Stanley Donen. Donen was an established director at this time with many huge movies under his belt, including Singing in the Rain, Royal Wedding, Seven Brides for Seven Brothers, and Funny Face. He wanted Abbott's input on the direction of the film to make sure it was consistent with the stage play. 
Choreographer Bob Fosse also returned for the film. The Pajama Game was his first major stage and film choreography experience. He had performed in a few films and Broadway plays, and done the choreography, but nothing to this scale. And he could go even bigger on the screen. After this, he became one of the leading director-choreographers of both stage and screen.
Jack Warner really wanted the entire Broadway cast to reprise their roles, with one exception – There had to be at least one big box office star in one of the two leads. Most of the cast did reprise their roles in the film, including Carol Haney, Eddie Foy Jr., Reta Shaw, Thelma Pelish, and Ralph Dunn. The studio wanted Frank Sinatra to play the male lead Sid Sorokin, and if he had said yes, the female lead would've gone to Broadway's Janis Paige. Instead John Raitt got the role, and Hollywood's sweetheart, Doris Day accepted the role of Babe Williams. Paige was also an established film actress though and ironically had starred with Day in her very first film, "Romance on the High Seas" (1948) and they would go on to play rivals after this in "Please Don't Eat the Daisies" in 1960.
Doris Day 
Who was Doris Day and why was she such a big deal? Born April 3, 1922 as Doris Mary Anne Kappelhoff, the freckle-faced film actress whose joyful personality and golden voice made her America's top box-office draw starred in over 40 films during a 20 year period. She acted with famous leading men including Rock Hudson, Clark Gable, Cary Grant, James Garner, Jimmy Stewart, Howard Keel, Gordon MacRae, Jimmy Cagney.
From Tragedy to Triumph
But before she charmed the silver screen, she started out as a big band vocalist, and that was due to an accident. She wanted to be a dancer and even won an amature dance contest at age 15 which led to professional dance lessons in Los Angeles. When the car she was riding in was hit by a train, her leg was shattered. It took a year in bed to recover and heal, and she spent a lot of time listening to the radio. She tried to imitate Ella Fitzgerald and was heavily influenced by her vocal style. Singing became so important, her mother brought in a singing teacher while she continued to recover.
By 17, she started singing at a local nightclub, where the owner changed her name because Kappelhoff wouldn't fit on the marquee. She then sang with Bob Crosby and His Bobcats (Bing Crosby's brother), and a few months later joined Les Brown and His Blue Devils. One of her first records with Les Brown, "Sentimental Journey" in 1945 sold more than a million copies and became an anthem during WWII.
America's Sweetheart
Day had become a successful singer, so acting in movies was not even on her radar.
She was approached by the songwriters for the film Romance on the High Seas to audition for the movie after Judy Garland turned down the role, and Betty Hutton had to back out due to pregnancy. She admitted to the director that she had never acted before, but as she said later, "from the first take onward, I never had any trepidation about what I was called on to do. Movie acting came to me with greater ease and naturalness than anything else I had ever done." 
After her success in the film, starring opposite Jack Carson (who, fun fact, was from WI!), she was immediately placed under contract at Warner Brothers. She made a series of musical comedies often playing the perky, wholesome girl next door.
Four of her songs from films were nominated for an Academy Award for Best Song, two won – "Secret Love" from Calamity Jane (1953) and "Que Sera, Sera" from The Man Who Knew Too Much (1956). Two of her most identifiable songs still today. 
Day returned to Warner Brothers to make "The Pajama Game" after making Hitchcock's The Man Who Knew Too Much, and MGM's thriller Julie. She was already a bankable star, but after the success of what was nicknamed, the "sex comedies," starting with Pillow Talk (1959), Day was the top box office star 4 years in a row, and her popularity at the theater rivaled only Shirley Temple's during the Great Depression. If you haven't seen Pillow Talk, you absolutely have to add it to your watch list! 
Romance on the Screen But Not in Life
Her Hollywood success did not reflect her personal life though. Day had 4 marriages. After 2 unsuccessful marriages to musicians, her third marriage in 1951 was to her manager Martin Melcher.
After his death in 1968, she discovered that he and his lawyer had embezzled and frittered away the $20 million she had earned and left her $500,000 in debt. He also agreed to a tv show that she had no interest in doing.
She was forced to do the sitcom to earn money to pay off her debts. This turned out to be a wise move – The Doris Day Show was an extremely successful show running for 5 years. It was a fun show, but it had many abrupt changes in the story line throughout its run. Day was a widow who lived on a ranch with her children in season 1, then she got a job at a magazine in San Francisco in the 2nd season, 3rd season they moved to San Francisco since rural themed TV shows had fallen out of popularity, and by the 4th season her children were completely written out and she was suddenly a fun loving single. 
Day retired in 1973 after the end of the show, but she returned to television many times with various specials. 
Bonus Doris Day Fun Fact: This is one that even I didn't know! Doris Day had one son, Terry Melcher, who went on to become a record producer. He was introduced to Charles Manson of the Manson Family Cult who was hoping for a record deal. They became friendly, and Manson would visit Melcher and his girlfriend Candance Bergen at their rented house in Benedict Canyon on Cielo Drive. When Day learned of this, she became very alarmed and convinced her son to move since Manson now knew where he lived. Melcher agreed and also told Manson that he wouldn't sign him. A few months later, when Manson sent his "family" to attack the house for revenge, they found pregnant Sharon Tate and her friends instead of Terry Melcher. August 8, 1969 was the start of the Manson Family killing spree. Doris Day saved her son's life. 
The Continuing Story 
She spent the rest of her life devoted to helping animals and started The Doris Day Animal Foundation. She not only personally helped rescue and find homes for stray dogs, she also worked to end the use of animals in cosmetic and household-products research.
Too often Doris Day has been dismissed as a goody-two-shoes and for being too wholesome, but she is now being seen as someone who challenged the status quo. She was one of few actresses in the 1950s/60s to play women who had a real profession, and her characters were often passionate about their careers. 
Doris Day passed away May 13, 2019 at age 97 at her home in Carmel Valley, surrounded by her best friends – her dogs. 
One of the Gang
In her autobiography, Day remembered how she was one of only four main cast members who hadn't appeared in the Broadway production of The Pajama Game. She explained how this made it hard to fall into the groove of a company that had been playing a show for more than 1000 performances together. She described it as trying to find her place in a well-oiled machine. Even a big star like her was a little intimidated. 
She had nothing to worry about though because The Pajama Game was a hit on the screen. 
It premiered in New York and LA, August 29, 1957, followed by its midwest premiere at the Grand Opera House in Dubuque, Iowa – Author Richard Bissell's hometown. Bissell and his family were guests of honor, along with star John Raitt. The celebration included a special luncheon, a parade, a Miss Pajama Game beauty contest, and the governor even declared it Richard Bissell Day! 
The Results Are In
The soundtrack for the film hit #9 on the Billboard charts and three songs became huge hits, including "Steam Heat," "Hernando's Hideaway," and "Hey There." Fun Fact: The reprise of "Hey There" sung by Doris Day, was actually recorded live. Something that was rarely ever done at the time. 
The critics were impressed with the film's ability to stay true to the original stage version. The New York Times reviewed The Pajama Game and said that it was 
"plucked off the Broadway stage and re-created as a movie with scarcely a passage or a principal performer changed. [The film] is as good as it was on the stage… It is fresh, funny, lively and tuneful. Indeed, in certain respects – such as when they all go on the factory picnic – it is even more lively than it was on the stage." 
Variety said it was an "almost faithful transmutation [of the Broadway production] into celluloid." The New Yorker said just last year that The Pajama Game is still "one of the greatest musicals ever." 
I hope you'll go watch this awesome movie for yourself now (It's currently available on Amazon Prime Video!) and continue to celebrate Doris Day's 100th Birthday and discover why The Pajama Game is still one of her most beloved movies. And see what all this "7½ Cents" hubbub is about. 
P.S. – Make sure to listen for a Wisconsin city reference! I'm sorry to say that it's not Sheboygan, but it's still pretty good.  
Contributed by Chloe Seider, Program Coordinator and Classic Film Buff