The Fairest of Them All – Walt Disney's Snow White and the Seven Dwarfs (1937)
A Classic Hollywood Blog
Our July Outdoor Movie Night was unfortunately rained out and canceled. Big Bummer. But luckily Walt Disney's Snow White and the Seven Dwarfs (1937) is available in many forms for you to have your own movie night watch party right in your living room! If you don't have it on DVD (or old school VHS), you can stream it on Disney+ or rent it from the library. But first, read all about the making of the one that started them all.  The fairest of them all! Today considered a standard in an ever growing genre of animation, it was the first full-length feature animated film ever, and Walt Disney risked everything, including his own fortune to make it. 
Groundbreaking From the Beginning  
Early Hollywood films were preceded by newsreels, trailers, shorts, and cartoons like the ones we were just watching. Walt Disney early on had received a reputation for creating the best animation and for being a trailblazer. His early cartoons were Alice Comedies which combined a live action girl in an animated world. In 1928 he released the first sound cartoon which also introduced the world to Mickey Mouse in Steamboat Willie. Then in 1932, Disney wowed the public again with the first fully colored cartoon. By 1934, Walt Disney had already won 4 Academy Awards for his advancements in animation. 
While Mickey Mouse proved to be immensely popular, Disney knew that those cartoons would always just be filler before the feature films. He wanted to expand his storytelling abilities and boldly go where no one had gone before, so he began planning a full length story in animation. 
Disney's Folly
Originally he hoped to do a combined live action and animated Alice in Wonderland to expand on the Alice Comedies. When those plans fell through, he remembered seeing an early silent film in 1916 of the Grimm Brothers' 1812 tale of Snow White and how it enchanted him. 
As he began to develop the story, the rest of Hollywood laughed at him. They nicknamed this new project "Disney's Folly." They claimed that people wouldn't sit still for an hour and a half cartoon. They would get up and walk out. They also thought that it would be bad for the audience's health because the bright colors would hurt their eyes! 
Heigh-Ho, Heigh-Ho, It's Off to Work They Go
Nonetheless, Disney continued on, using the film as a testing ground for the animators. The studio was still producing short cartoons while working on the film, and used those to experiment.
At the beginning, the characters looked very cartoony and like caricatures vs. realistic people. They used Silly Symphony cartoons to practice drawing dwarf and witch characters. Also in Silly Symphonies they perfected creating realistic animals and nature scenes, and they also tested special effects that would be needed in Snow White. 
They soon set up a school for the animators. They would work on the film during the day and then at night they would go to school, working on drawing movement and live subjects. Walt would film actors for the animators to watch to learn how to make the animated characters move and dance as real people would. They also had a reward system – $5 for the best gags! 
After working all day and all night, they would fall asleep at their desks and then wake up to start again the next day. A true testament to their dedication and passion for the project. 
The Sound of Snow White
The animators also worked closely with the composers to make sure that every move was absolutely in sync with the music. A perfect example of this is during the song "Whistle While You Work." In total 25 songs were written for the film, but in the end only 8 were chosen. Snow White became one of the first film musicals – The songs don't interrupt the movie but instead help the story line along and convey meaning and personality. 
Walt was adamant about this, and he knew that creating the right sound effects and having the right voices were crucial. More than 150 girls had auditioned for the part of Snow White when the casting director called a vocal teacher in New York to see if he had any students who would fit the part. His daughter, 18 year old Adriana Caselotti, who was classically trained, happened to be listening on the extension (which was another phone in the house for any youngins reading this), chimed into the conversation saying "Listen to me! Wouldn't my voice do?" and started singing. 
Sure enough, over the next year her voice was tested, songs were recorded, and the Disney animators studied her gestures for inspiration. Adriana never lost her love for the film and she proudly displayed a wishing well in her front yard the rest of her life. In an interview in 1995 she said that she was infinitely proud of her contribution to Disney's legacy. "I know that my voice will never die," she said.
Animation to the Screen
By 1936, the first few scenes were approved and finally ready for ink. 150 artists in the Ink and Paint Department worked on tracing the animated images from paper to a transparent celluloid.They then filled in with paint on the back of the cell. One million drawings were made using 1,500 separate shades of color that were custom made by the Disney color chemists. The women in the department knew how to give Snow White a realistic, feminine glow…they used real makeup foundation and blush! Disney liked the result, but was concerned that they wouldn't be able to consistently apply it in the right spots. One woman responded by saying, "What do you think we do every morning?" He couldn't argue with that.  
After the Ink & Paint department, each individual cell was sent to be filmed using the newly developed Multiplane Camera. This special camera was used to take a 2D image and create depth. The camera was pointed down at multiple planes or levels of glass that had different parts of a picture. Backgrounds were placed behind and layered with transparent character cells, and shot one cell at a time. Each one is slightly different to create the illusion of motion. Once again, Silly Symphonies were used to test this new technology.
Catastrophe
After years of tireless, round the clock work to finish the film, the studio ran into a huge roadblock that would mean disaster. They had run out of money. 
The cost of the film was astronomical and way past what was originally budgeted. Walt had sunk his own savings into the film and was deep in debt. The bank wouldn't give him any more money. The banker came to see an early screening of the film to understand what they had been working on. He declared Snow White was going to be a smash hit and whatever they needed to finish it, the bank would lend.
Hollywood Premiere Makes Them Eat Their Words
After continuing to fine tune and cut down the film right up until the last minute, the movie was finally ready for release. All of Hollywood came out for the premiere of the film on December 21, 1937.
Also there for the celebration were early versions of Disney characters like Mickey and Minnie Mouse, Donald Duck, and the Seven Dwarfs. 
The film ended in a standing ovation!
The audience and critics were taken in by the drama and unexpected depth of the characters. People actually cried in the theater over (spoilers) Snow White's death. For 87 minutes, they laughed, they cried, they cheered. What had been dubbed Disney's Folly, was now his greatest triumph!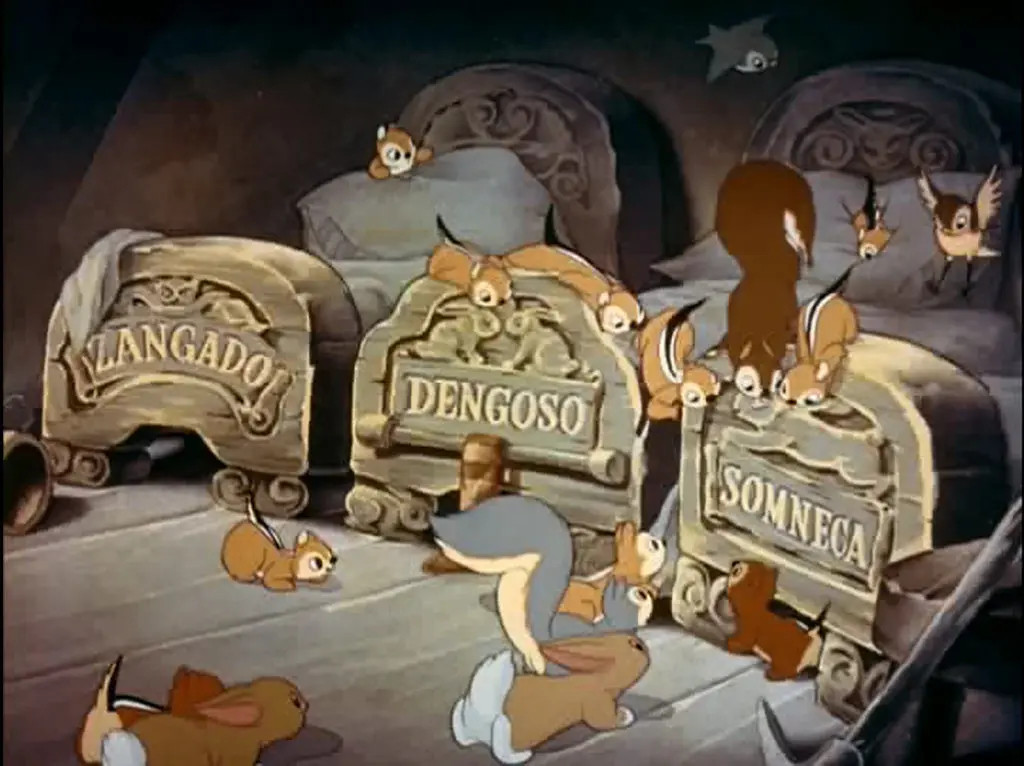 Snow White and the Seven Dwarfs took in more than $8 million worldwide at the box office. Keep in mind that a children's ticket cost only $0.20 then. That's a lot of tickets! The film was seen by more people than any other film at the time. It became so popular, it was dubbed into more than 20 languages. Preparation for the international release was the first to ever be done. Custom art was created for scenes with words in them so that the right language would be shown. Attention to detail was shown in everything, including the names of the dwarfs changing on their beds. 
Confident that the film would be a success, Walt Disney made sure that movie merchandise was available the day of the premiere. Continuing as a trailblazer, this had never been done before. Games, dolls, figurines, toys, plates, and even women's fashion were released. And for the first time a feature film soundtrack was released so the public could whistle while they worked at home. 
An Empire is Born
At the Academy Awards on February 23, 1939, Shirley Temple presented Walt Disney with a special Oscar that included one big statue and seven little ones. Disney had officially become the #1 provider of family entertainment. Snow White and the Seven Dwarfs was the first of what would become the empire that we know today. In fact, after struggling to find enough money to finish the film, within 6 months after its theatrical release, Disney had not only paid off all of their debts, he used the rest of the profits to build the Walt Disney Studios. 
Snow White and the Seven Dwarfs is still considered one of the greatest and most important films in history. Snow White is not just another princess, she's a pioneer that all other animated films, Disney or otherwise, can thank for paving the way. She really is the fairest of them all. 
Contributed by Chloe Seider, Program Coordinator and Classic Film Buff