The Music. The Man. The Fun Facts: The 50th Anniversary of "The Music Man" (1962)
A Classic Hollywood Blog
To quote Mayor Shinn from "The Music Man" (1962), we had to move our Outdoor Movie Night inside, "on account of the weather being so chancy," but that didn't stop us from having a grand time! We weren't under the stars but we were out of the bugs. Thank you to everyone who joined us for our last movie night of the summer on August 19, 2022! We enjoyed classic Mickey Mouse Cartoons, followed by my special introduction to the film filled with fun facts, and then a fun showing of The Music Man.
A special thank you to our staff and volunteers who make these popular events possible!
If you have come to one of our movie nights before, you know that I love to pick movies that celebrate a birthday or anniversary. For our final movie night we celebrated the 50th anniversary of The Music Man (1962)!  

Meredith Willson – 
The story is a look at small town life in fictional River City, Iowa during 1912 and was inspired by author Meredith Willson's Iowa childhood and his time playing piccolo for John Philip Sousa. 
Known as the "American March King," Sousa is considered one of the greatest military march composers of all time, composing "The Stars and Stripes Forever" and "Semper Fidelis." Sheboygan Co. Fun Fact: John Philip Sousa brought his band to perform in Kohler, WI in 1919 and 1925. 10,000 people came by streetcar to enjoy the 1919 concert!
It took Willson 8 years to write the musical, and no one thought he would have an instant classic on his hands. He had written a song here and there for Broadway shows, film and radio, but never an entire musical. It was taking him so long to write it, that his first producers gave up on him. But 40 drafts and 38 songs later, 22 of which were cut, his show The Music Man, was ready for its Broadway debut. It was an overnight sensation! 
Broadway Smash –
The show opened on December 19, 1957 and ran for 1,375 performances. The show was the first to ever win a Grammy award for Best Musical Theater Album. It was nominated for 8 Tony Awards and won 5 including Best Musical, beating West Side Story which was a BIG deal, and Best Actor and Best Actress for its leads including Robert Preston.
Preston, who seems to be the perfect Harold Hill, was not Willson's original first choice for the stage show. Willson actually wrote the part with his friend Phil Harris in mind, but Harris decided not to move to Broadway. If you came to our showing of The Aristocats in 2020, Phil Harris was the voice of Thomas O'Malley. The part was then offered to Gene Kelly, Danny Kaye, and Ray Bolger before finally being offered to Robert Preston – a theater veteran but a newcomer to the musical scene. The role became Preston's breakout hit and revitalized his career. 
From New York to Broadway – 
After its unexpected phenomenal success, it was clear that The Music Man should be put on film. Bing Crosby and Frank Sinatra both tried to buy the rights from Meredith Willson with hopes of starring in the film themselves, but Willson said no. When Jack Warner of Warner Brothers made an offer, Willson finally said yes.
Marton DaCasta returned as the director and brought with him the choreographer from the Broadway show, Anna White. DaCasta also brought a number of members from the Broadway and National casts including Pert Kelton, Peggy Mondo, Paul Ford, Susan Luckey, Harry Hickox, Monique Vermont, and the barbershop quartet, The Buffalo Bills.
Sheboygan Co. Fun Fact: The Buffalo Bills were the 1950 International Champion Medalist Quartet of The Society for the Preservation and Encouragement of Barber Shop Quartet Singing in America. Sheboygan's very own Chordettes were also members of this group and actually got their start in part because of it. Jinny Osborn's father O.H. "King" Cole of the Kingsbury Brewery, was a prominent member and encouraged and supported Jinny in forming The Chordettes. 
With the cast starting to come together, the question remained. Who would play the leads, and most importantly who would play Harold Hill?
Even with a Tony Award and over 800 performances to back him up, Robert Preston still wasn't first choice. If you came to see The Pajama Game in June or read that blog post, you'll remember that Jack Warner was determined to have a big name star as a lead in Broadway to film remakes for security at the Box Office. It was first offered to Cary Grant who responded by saying, "Not only will I not play it, but if Robert Preston doesn't do it, I won't even see the picture." He said the same thing two years later when he turned down Rex Harrison's role in My Fair Lady. 
Warner then wanted Frank Sinatra for the role, until Meredith Willson put his foot down. He had cast approval in his contract and threatened to cancel the entire film if Preston wasn't the lead. The film became a huge success in part due to Prestons' larger than life portrayal of Professor Harold Hill. 
Instead, box office star Shirley Jones was cast as Marion the Librarian. She was one of the biggest stars in Hollywood at the time after her breakout role in 1955's Oklahoma. Jones had also  just come off of winning an Oscar for her portrayal in Elma Gantry. A Hollywood beauty with major musical talent, she was the perfect choice.
And for Marion's brother Winthrop, Warner launched a national search to find the perfect little boy. This became the first major film for little Ron Howard. Coming from a down to earth family, he didn't act like a showbiz kid. Just a normal little boy. Although he had natural acting talent, the singing and dancing was a bit of a struggle for him. He later admitted that he's basically tone deaf and has two left feet. It took a lot of coaching from the music conductor to get a usable recording from young Howard for the reprise of the song "Gary, Indiana." And when he
sings it in the film, he finishes with a soft shoe routine. But he just couldn't get the footwork, so they filmed him from the knees up and added tapping sound effects later during the editing process. 
Howard would continue as a star on television on The Andy Griffith Show and later Happy Days. In fact, Happy Days references Howard's breakout film role in the episode "Joanie Gets Wheels" (1980), when parents Howard and Marion Cunningham pause in the lobby of a movie theater to look at a poster for The Music Man. Marion comments how much the little boy in the movie "looks so much like Richie did when he was little." He did, because he was! Today, Ron Howard has become one of the premiere directors of our time. 
The Making of a Classic –
With the cast in place, intense rehearsals began. They would rehearse each number at least 3 weeks before filming it. Shirley Jones admitted to choreographer Anna White that she was not a dancer. Anna responded by saying, "Honey, by the time this movie is over you'll be a dancer!" Once filming began, they tried to get everything in one take,
which required lots of practice in order to be spot on every time. The biggest number in terms of extras was "76 Trombones" at the end of the movie. They needed so many band members, the University of California and the University of Southern California marching bands stepped in as extras to give the parade an authentic look. The biggest dance number was "Shipoopie." Buddy Hacket, who sings the song, said later in an interview, "We came in every day and we shipooped and shipooped, and we were pooped out." 
That scene also features an elaborate overhead camera shot, which was just one of many fancy camera tricks used in the film. DaCasta chose to use the innovative iris in and iris out effect which gave depth and emphasis on a character which was only done before using a close up. He had used the technique successfully in 1958's Auntie Mame. 
For all you Gilmore Girls fans out there, the set of The Music Man may seem familiar. The movie was filmed on Warner Brother's famous Midwest Street Square and it became Stars Hollow's town square. The billiard parlor became the grocery store, City Hall became the Stars Hollow High School, and where the Henry Madison statue that Robert Preston sings "Ya Got Trouble" from, became the picturesque gazebo. The candy/soda fountain shop stays the same in both the film and the TV show.
While filming was underway, Pacific Title was hard at work making a special introduction to the film. Miniature marching band members were painstakingly hand painted and placed to form words and shapes for the opening credits. Each individual miniature was moved by hand and then a picture was taken to create stop-motion animation.
Shirley's Secret –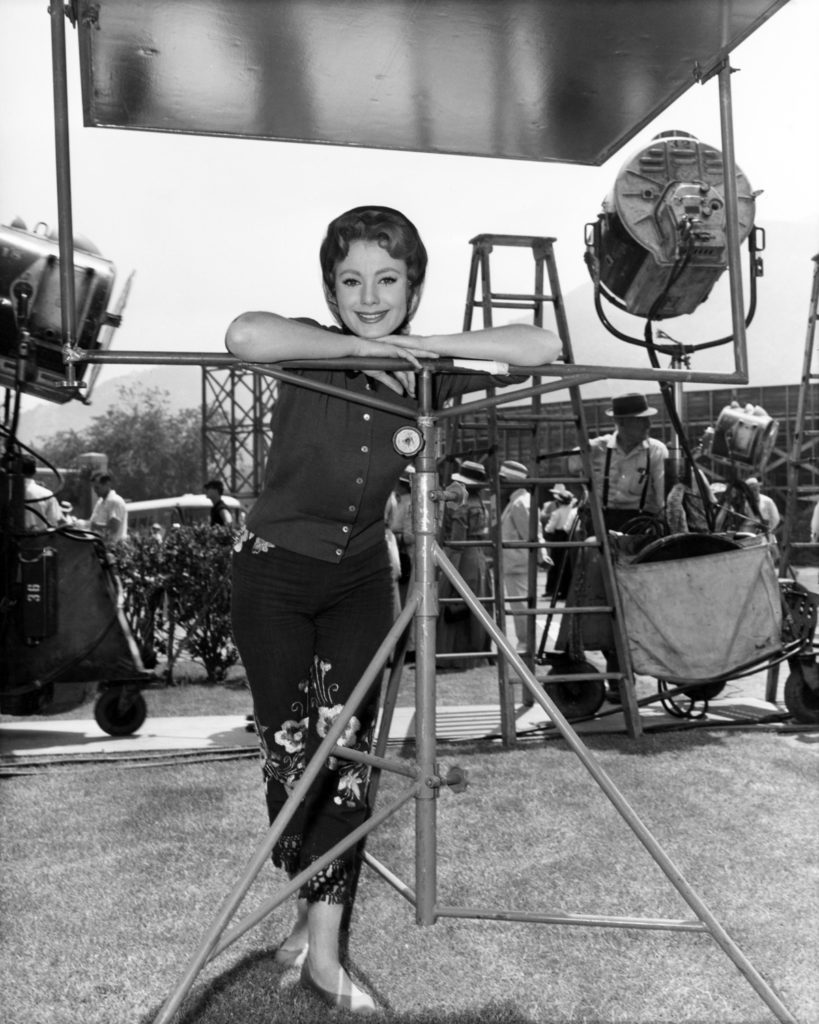 It took 9 months to make this film and during that time, there was a surprise discovery! 3 months into shooting, Shirley Jones discovered she was pregnant! She took DaCasta to lunch and broke the news to him. He assured her not to worry and that they'll figure it out. Which I'm sure was a relief considering other actresses were taken off projects once they became pregnant. Luckily, with this being a period picture, they could cover her growing belly with ruffles and fringe. They also built a special corset for her that pulled her in more and more as the baby grew. I can't imagine it was pleasant for her or the baby!
DaCasta asked her not to tell anyone but about halfway through filming, the dancers started to notice. When they shot the final scenes, it was time for the romantic foot bridge scene. The only major kiss in the movie. Preston and Jones had their arms around each other in an embrace. After the director yelled cut, Preston pulled back and exclaimed, "What the heck was that?!" It was Patrick Cassidy with a big kick! If her secret wasn't already out, it was now. 
Years later when Patrick introduced himself to Robert Preston as Shirley Jones' son, Preston replied, "Yes, we've already met." 
An Iowa Premiere – 
The Music Man had its world premiere on June 19, 1962 in Meredith Willson's hometown of Mason City, Iowa. All the cast were there for a wonderful weekend celebration that included many things seen in the movie such as a box social and of course a big parade filled with marching bands. The film was as big on the screen as it was on the stage, becoming the 3rd highest grossing film of 1962. 
It was critically acclaimed receiving very positive reviews. Bosely Crowther of The New York Times, who was known for being unnecessarily cruel and could make or break a career, assured audiences that missed out on seeing the Broadway show, that the film lived up to and even enhanced it. Variety said, 
"Call this a triumph, perhaps a classic…the only choice for the title role, Robert Preston, is the big proof of showmanship in the casting. Warners might have secured bigger screen names, but it is impossible to imagine any of them matching Preston's authority." 
The film version of The Music Man was nominated for 6 Academy Awards, and won for Best Musical Score. It was also nominated for 5 Golden Globe Awards including Best Actor and Actress for Robert Preston and Shirley Jones, and it won Best Motion Picture – Musical. 
In 2005, the film was selected for preservation by the Library of Congress for being "culturally, historically, or aesthetically significant." The film has become a classic that has and will endure for generations, not just because of the chemistry between the actors, but also because as Shirley Jones said, it's about "the magic of believing and the goodness of life. Miracles do happen. Even for a skeptic like Marion Paroo." 
This film has always been one of my favorites and playing Marion the Librarian has always been a dream role for me. I sing the song, "Goodnight, My Someone" every night to my 5 month old son and I'm excited to someday watch the film with him (right now he enjoys just listening).  Now go find yourself a copy of "The Music Man," sit back, relax, and enjoy this charming small town story of a conman who got his foot stuck in the door.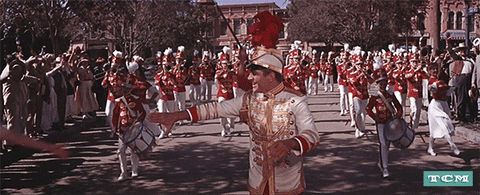 A Special Note from Chloe: 
My time as the Program Coordinator for the Sheboygan County Historical Museum is coming to an end as I start a new exciting adventure staying home full time with my son. And now, my very last Outdoor Movie Night has come and gone. It was bittersweet and a little disappointing that it couldn't be outside under the stars as intended, but it was still a special night. Thank you to my mom, my husband Josh, and my son Samuel for coming to support me!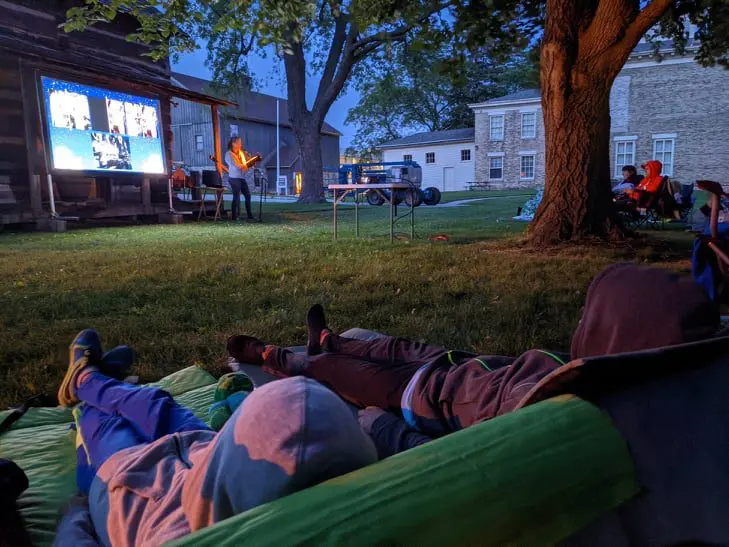 These have been some of my favorite programs. They combined two of my favorite things, sharing history about how Classic Hollywood films were made (and being paid to actually do it!), and watching a movie in a large group to hear them laugh and cry over the same things I do. We started with just one movie in 2019, and here we are in 2022 10 movies later! Having the opportunity to write a blog about each movie afterwards for the Sheboygan County Historical Museum's website has given me a chance to be published in at least a small way. Someday, I might finally write that book, but at least I've got these blog posts in the meantime. I hope you have enjoyed reading them as much as I have enjoyed writing them. Thank you to my loyal group of moviegoers who came to many, if not all of my movie nights! 
I'm excited that the Museum hopes to continue this programming next summer during the 100th Anniversary since they have become so popular. And who knows, maybe I can still come back as a guest presenter to keep sharing all my nerdy fun facts. Until then, keep watching the oldies that put a smile on your face and a song in your heart! 
Contributed by Chloe Seider, Program Coordinator and Classic Film Buff