I'm Dreaming of a White Christmas
A Classic Hollywood Blog
Thanks to the sponsorship of Clear Captions, the Sheboygan County Historical Museum was able to host our first ever Senior Holiday Night Out on December 19, 2019! This highly anticipated event quickly sold out spots, and was a huge success! Guests 55+ enjoyed a free dinner and conversation, followed by a presentation by Clear Captions representatives Jack Bechaud and Mark Bishop (Take away – Yes! Clear Captions is absolutely free and so helpful!). Then after coffee and Christmas cookies (you can't have a holiday party without cookies!), we settled in for a showing of 1954's White Christmas! The film is celebrating it's 65th anniversary this year!
As you know from my last blog, I am a huge Classic Hollywood fan. Whenever I get to do film research, share fun facts with a room full of people eagerly listening, watch a classic movie, and get paid to do it, it is a very good day! And White Christmas is one of my absolute favorites! My family has watched it every year for as long as I can remember, and usually more than a few times. In fact, my older brother will even watch it year round. So just like Turner Classic Movies provides their TCM Host intro, I gave my very own "SCM Host" Intro to the film with behind the scenes information, fun facts, and special things to look for while watching. So if you were able to join us for our Senior Holiday Night Out and need a fun fact refresher, or you missed out or possibly didn't meet the age requirement but still want to learn about the movie, keep reading! You'll be the hit of your next Christmas movie night when you watch White Christmas!
Chloe's Fun Facts for White Christmas:
White Christmas was directed by Michael Curtis, who was considered to be one of the best directors in Hollywood and had won the Academy Award for Best Director for Casablanca. It featured an all-star cast of Bing Crosby, Danny Kaye, Rosemary Clooney, Vera Ellen, Mary Wicks, and Dean Jagger. This Paramount production was extremely popular, selling out across the country and becoming the second biggest film in 1954.
White Christmas, including the title song was composed by Irving Berlin. This was not the first time we have heard the song White Christmas though. Berlin wrote it in 1938 and played it for Bing Crosby who saw potential in the song. His recording became an instant hit and has sold millions of copies over the years. The song became especially popular with troops during World War II. Crosby was very involved with the war effort which included entertaining the troops, and performed this requested song often. This is reflected at the beginning of the film in the opening scene when Danny Kaye and Bing Crosby's characters are giving a Christmas Eve performance at the European Front.
Holiday Inn
The first time we hear Berlin's song "White Christmas" on the screen is when Crosby sings it in the popular 1942 film Holiday Inn co-staring Fred Astaire. The song won an Oscar for Irving Berlin, who is the only Oscar presenter to ever open an envelope and read his own name as the winner. He joked with the audience, "I'm glad to present the award to….I've known him for a long time."
Paramount wanted to recreate the success of Holiday Inn 12 years later with White Christmas. But the song wasn't the only thing they brought back. The set that was used as the inn in Holiday Inn, was reconfigured and reused to be the Columbia Inn in White Christmas. Look at the windows especially and you'll see what I mean!
They also hoped to bring back Fred Astaire as well. Astaire was considering retiring once again and declined to do the film – although I guess he changed his mind because he continued making musicals until 1968! He was replaced with Donald O'Connor who had successfully worked with Crosby in Anything Goes. He became ill though and was unable to take the role, so finally Danny Kaye was offered the part of Phil Davis.
Meet the Stars
Bing Crosby stars in White Christmas as song and dance man Bob Wallace. Crosby was an incredibly popular recording artist and crooner. He was considered the "Voice of Christmas" due to the popularity of his Christmas albums and TV Specials. Crosby was also an established actor at this time. He had already appeared in 76 films since 1930! Although I will say a number of his early appearances were in film shorts, but they still count. His staring roles included the very popular "Road To" films that he made with his good friend Bob Hope.
Danny Kaye was a Theatrical Renascence Man – He could do it all!  Radio, TV, stage, film, and he was a talented comedian, singer, and dancer who had become one of the biggest stars of the 1950s. Danny Kaye was also passionate about children. He used his popularity and celebrity status for good, becoming the first goodwill ambassador for UNICEF soon after filming White Christmas, raising millions of dollars to help children around the world. Irving Berlin was absolutely thrilled to have Danny Kaye in his movie! Paramount hoped that with the addition of Kaye, they would have another successful "buddy film" on their hands similar to the "Road To" films.
Playing the lovely and equally talented two sisters that these men fall for are Rosemary Clooney and Vera Ellen. Vera Ellen was considered to be the best female dancer in Hollywood, and she really shines in this film. She started dancing at the age of 10 and carpooled to dance class with another future star – Doris Day. Ellen quickly mastered every type of dance. By the age of 18, she became one of the youngest Radio City Rockettes, and began performing on Broadway before becoming a sensation in Hollywood.
Although Ellen played the younger sister, she was actually 7 years older than Rosemary Clooney! In fact, there were all sorts of age gaps between the actors. Bing Crosby who plays Clooney's love interest is 25 years older than her. And Dean Jagger who plays the retired, elderly general was actually a few months younger than Crosby!
Rosemary Clooney was only 26 when she made this movie (which amazes me because I'm 27 and she seems so much more sophisticated than I am). It became her breakout role as an actress and led to a 7 year contract with Paramount. She can thank Bing Crosby for helping her get the job. He wrote a letter to Paramount recommending her. The letter said, I found this "dame who can sing a good song and is personable. I think she'll work out." She and Crosby became very good friends while making the film and they remained close until his death. In an interview Clooney said their friendship was the most important thing to her to come from making White Christmas.
Since both actresses were better at one thing than the other, they helped cover each other's weaknesses. Vera Ellen was obviously a fantastic dancer and helped Rosemary Clooney – who couldn't dance, learn her routines. And although you see her sing in all of her movies, Ellen was actually always dubbed. So in "White Christmas" you hear Clooney singing for both parts – listen closely when they sing "Sisters." The only time you can hear Ellen's real voice is in the quick reprise of "Snow" when they reach Vermont.
Speaking of music, recordings proved to be complicated. Unfortunately Clooney was under an exclusive contract with Columbia Records, while the soundtrack rights for the film were controlled by Decca. So in 1954, Decca released an album that featured all of the cast, except her. Instead her parts were sung by Peggy Lee, famous for the song "Fever". Columbia did release an album of Clooney singing eight songs from the film to counter this, but in my opinion it just wasn't the same. Bing and Clooney would later re-record some of the songs they sang together in the movie and release them on albums they collaborated on.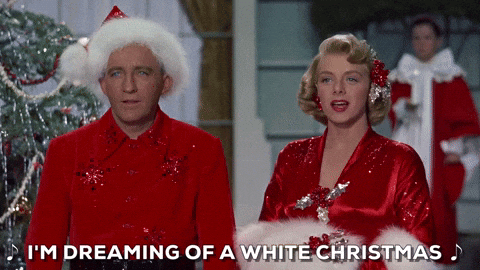 Production
The movie was filmed in "VistaVision" and was the first to ever use the technique. It was designed to compete with the growing popularity of television (which Hollywood had significantly underestimated) by creating vivid color and clear wide-screen images with high resolution, in contrast to the black and white, small ratio screens of TV. Another appeal to VistaVision was that it could be shown in any kind of projector and in any kind of theater and it would always look the same. Whereas theaters had to change their layouts to accommodate CinemaScope and Cinaroma.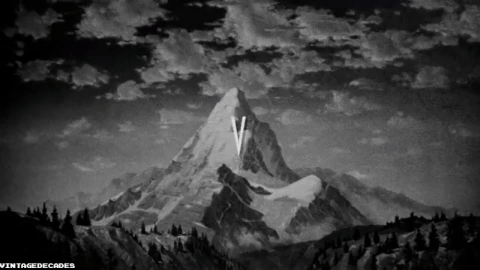 The high quality of VistaVision shows off the beautiful costumes designed by legendary designer Edith Head who won 8 academy awards for costume design during her career. One of the best examples of her work in the film is in "The Best Things Happen When You're Dancing." She made the socks and shoes the same exact color as the suit that Danny Kaye is wearing, so the line through his body while dancing wasn't broken by color creating a more visually pleasing effect.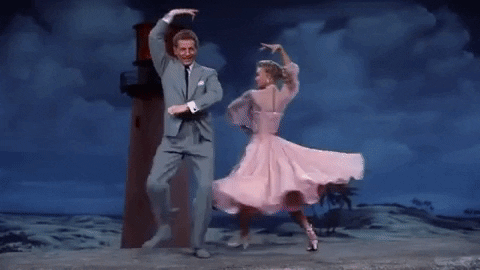 Along with famous people working on the set, they had many famous guests come to visit. Including royalty! After they wrapped filming the last scene which includes the title song, the King and Queen of Greece arrived. The crew and cast were forced to pretend they were still filming and redid the number. But there was a problem. Crosby had already left for the golf course. So his voice was heard coming through the pre-recording, but his body wasn't there to sing along!
Cameos and Things to Watch For
When they show the picture of Benny Haynes, the Haynes sister's brother, he might look a little familiar. "The Dog-Faced Boy" is actually a grown-up Carl Switzer who played Alfalfa in the original Our Gang, also known as the Little Rascals. He appears in another Christmas favorite. In It's a Wonderful Life, he plays the disgruntled high schooler who opens the pool at the dance to get back at Jimmy Stewart for stealing the affections of Donna Reed.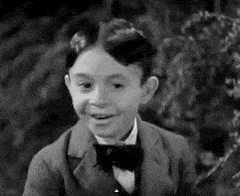 Then later in "Love You Didn't Do Right By Me," you can see a young dancer accompanying Rosemary Clooney who also might look familiar to you. In a few years George Chakiris would win an Academy Award for Best Supporting Actor as Bernardo in West Side Story.
And finally, I'd like to mention one of my favorite scenes in the whole movie, the reprise of "Sisters." This funny scene where Bob and Phil pretend to be the Haynes Sisters to help them out of a jam wasn't originally written into the film! Danny Kaye and Bing Crosby were goofing around on set, and the director thought it was so funny, he wrote it into the script. When they did the actual recording of it, Kaye felt that Crosby was taking it too seriously and needed to lighten up, so he started whacking him with the feathers. So the laughter you hear coming from Kaye and Crosby is genuine. The laughter you hear from the audience is also real because Kaye and Crosby were improvising the whole thing right then and there.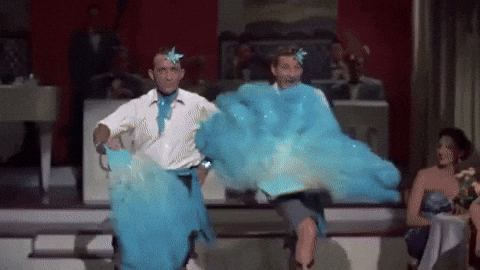 I hope that you enjoy this Christmas Classic and join me in celebrating its 65th Anniversary! It continues to bring joy to new generations year after year. Although it doesn't look like it outside, I hope it leaves you "dreaming of a White Christmas!"
Contributed by Chloe Seider, Program Coordinator and Classic Film Buff
Thank you again to our sponsor Clear Captions for making this event possible! And for providing me with an opportunity to share more fun facts with the world! For more information about Clear Captions: https://clearcaptions.com/