Meeting the Smith Family at the 1904 World's Fair in "Meet Me in St. Louis" (1944)
A Classic Hollywood Blog
What's our favorite way to celebrate the official start of summer? With an Outdoor Movie Night of course!
We have a fun line up of classics for our Outdoor Movie Nights this summer and we are kicked things off on June 18, 2021 with an influential film that ushered in the golden age of musicals at MGM. We had a fantastic evening and beautiful weather for our first movie of the summer. It was exciting to see familiar faces and many regular movie night attendees
 Guests enjoyed an I Spy Game while they waited for the sun to set and then laughed at silly classic Mickey Mouse cartoons. I shared behind the scenes information about the making of the film, and then at dusk, we all fell in love with "Meet Me in St. Louis" (1944)!
If you missed out but would still like to learn all about the film, read on! Or, if you joined us and would like a few extra Bonus Fun Facts, you'll find those below in bold! Impress all of your friends and family at your next Meet Me in St. Louis watch party 🤓
Chloe's Fun Facts for Meet Me in St. Louis:

Nominated for 4 Academy Awards, 1944's Meet Me in St. Louis featured an all-star cast, and established Vincente Minnelli as one of the best directors in Hollywood.
The film is considered by many to be a Christmas classic, but actually only a small portion of it takes place during the holidays. It is a memorable part though because of Judy Garland's iconic song "Have Yourself a Merry Little Christmas."
            Bonus Fun Fact: If you start watching the film at exactly 10:22:30pm on Christmas Eve, you can ring in Christmas Morning with the characters in real time just as the church bell tolls midnight in the film.
The film is a year-in-the-life look at the well-off St. Louis family, the Smiths, and the challenges they face as they are swept up in the excitement of the coming 1904 World's Fair
The story was based on a series of 12 personal memories, one for each month, by Sally Benson who first published them in The New Yorker in 1941. They were originally written under the title "5135 Kensington" and were later published together as a book called "Meet Me in St. Louis." If you listen during Judy Garland's first song "The Boy Next Door," she sings that she lives at "5135 Kensington Avenue" and the boy next door that she is in love with lives at "5133."
Vincente Minnelli
MGM asked Vincente Minnelli to direct the film adaptation. Minnelli had started out as a set designer on Broadway before becoming a musical theater director and later Hollywood director, and as a result was passionate about attention to detail. He worked with Sally Benson to make sure that every set was decorated to replicate almost exactly the home that she grew up in. The historical accuracy from the sets to the costumes created a colorful and richly textured backdrop that is filmed beautifully in technicolor.
This was Minnelli's 3rd film and his first full-length film in technicolor. He definitely had the mindset of "Go Big or Go Home." The street that the Smith Home is on was built specifically for the film. MGM wanted him to film on the existing Andy Hardy set. But the set had too much of a New England feel so Minnelli fought hard for an entire new set to be built to create the right look.
Bonus Fun Fact: The popular Hardy series starred Judy Garland's dear friend and often co-star, Mickey Rooney in a total of 16 films from 1937 – 1958 (with a 12-year gap between the last two films). Garland co-starred in three of the Hardy films.
The street set became known as "St. Louis Street" and the houses were used in various films and tv shows for the next 27 years.  If you joined us last August for the film Good News from 1947, you saw the street as part of Greek Row in the college town. In 1970, the home looked almost the same as it did in 1944. A year later, the lot was demolished for apartments and condos.
Judy Garland
Judy Garland stars as Esther Smith, and although she radiates in the film, she was very resistant to the role and the film got off to a rocky start because of it.
Garland, born Frances Ethel Gumm, started performing at age 2 as part of a sister act in Vaudeville, and made her film debut in 1929 in a number of shorts with her sisters. She later signed with MGM in 1935 after a personal audition with Louis B. Meyer at age 13. Garland quickly became the studio's Musical girl-next-door. Her pairing with Mickey Rooney in Love Finds Andy Hardy in 1938 proved so popular, they were quickly put together in a number of Mickey and Judy musical specials starting with Babes in Arms in 1939.
Arthur Freed, head of the musical unit at MGM, wanted to cast her as Dorothy in The Wizard of Oz in 1939, but the studio wanted to borrow popular child star Shirley Temple from Fox. Freed finally convinced Meyer that Garland would be a better choice – she was a better singer and actor, plus she would be cheaper.
Bonus Fun Fact: The studio soon realized they had a problem. Garland was growing into a young woman. The studio tried to hide her growing body by literally squeezing the 16-year-old girl into a body harness and dressing her in little girl clothes to make her look like a 10-year-old.
The success of The Wizard of Oz made Judy Garland into one of the top 10 box office stars of 1939. With success came many pressures though. Garland tended to be heavier in weight, so the studio had her take medication that was an appetite suppressor to force her to lose weight. Her success also brought more demand for more films. Before child labor laws, Garland and Rooney were both working night and day cranking out multiple films per year. To be able to keep them perky and energetic, the studio would give them "upper" and "downer" pills that would help keep them awake for hours on end and put them to sleep when they finally had a break. The studio's manipulation of prescription drugs led to a lifelong addiction for Judy. And sadly, to her death from an overdose in 1969 at age 47.
After many, many teenage roles, Garland finally was cast in leading lady roles in For Me and My Gal and Presenting Lily Mars in 1942 and 1943. She had fought hard to play characters true to her age and be rebranded as an adult.  So Garland was not too happy when the studio cast her in Meet Me in St. Louis as a 17-year-old girl when in real life she was 21. Once again, she would be playing a teenager.
She wanted nothing to do with it and didn't take it seriously, instead playing the part with a satirical attitude that made fun of it. After many conversations, director Vincente Minnelli finally convinced her to take the role seriously, telling her to "say everything as if it is the most important thing in your life. Care passionately." And something amazing happened. As they talked and worked together more, they quickly fell in love and a year later were married. Their daughter Liza Minnelli said in an interview, "As she listened to him talk, she fell in love with him. He was just crazy about her. If you notice throughout the film, she's always photographed in a frame." The film became a love letter unfolding through cinematography.
Judy Garland said that this film was her favorite and that it was the first time she felt beautiful.
Bonus Fun Fact: This can be attributed to not only her glow from falling in love, but thanks to Minnelli's special request for makeup artist Dorothy Ponedel to bring out Garland's natural beauty. Up until this point, the studio didn't consider Garland a beauty, in fact in many ways she was considered the ugly duckling. She had been forced to wear discs to turn up her nose, and dental caps to disguise her slightly crooked teeth, but Ponedel threw them away telling Garland that she was pretty enough and didn't need them. Instead Ponedel wanted to bring attention to Garland's full lips and large brown eyes, so she arched her eyebrows, applied false lashes and bright red lip color. This would become Judy's signature look. Ponedel continued to work with Judy Garland for the rest of her career at MGM.
Margaret O'Brien
The other top billed star of the film is little 7-year-old Margaret O'Brien. She plays Tootie, who was author Sally Benson's character in real life.
O'Brien had already been in many films before Meet Me in St. Louis and was quickly becoming a popular child star. She was noted for her natural acting ability. She didn't know how to read yet, so her mother would read the lines to her and she would memorize not only her lines but remember everyone else's too! O'Brien was also known for her emotional crying. There are different stories about how she was able to sob at the drop of a hat.
Director Vincente Minnelli claimed that her mom would whisper into her ear right before filming an emotional scene that someone was going to kidnap and kill her little dog. O'Brien in a later interview said that she actually had a contest going with June Allyson, who starred in Good News from last summer, and was also known as a big crier at the studio, to see who could cry on cue the best. She said her mother would whisper a threat that they needed the makeup man to spray fake tears and that would upset her so much she'd cry uncontrollably. When you watch the Christmas Eve snowman scene, you can decide for yourself which whisper you think made her sob uncontrollably.
Her emotional acting paid off when she was awarded a special miniature Oscar for the Most Outstanding Child Actress of the Year.
Bonus Fun Fact: O'Brien said that she was very close with Judy Garland who really did treat her as her little sister and was very protective of her. Garland was concerned that the studio was overworking O'Brien like she had been, but times were already different in the few years since Garland started as a child actor. Child labor laws and regulation prevented O'Brien from working all the time and required her to go to school, vs. Garland being forced to work day and night. The only time that O'Brien was allowed to work late was while filming the Halloween night scenes. And she said later that is was hard to act afraid in those scenes when she was having so much fun! She and the mean bulldog, were actually best buds in real life.
Catchy Chart -Topping Tunes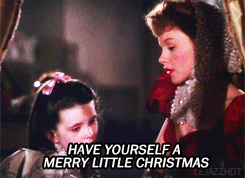 One of the most iconic songs to come from the film is when Judy Garland sings "Have Yourself a Merry Little Christmas" to Margaret O'Brien. Songwriter Hugh Martin almost shelved the song because the lyrics were a little depressing – "Have yourself a Merry Little Christmas, it may be your last." Garland refused to sing the sad lyrics saying "If I sing that to little Margaret O'Brien, people will think I'm a monster!" So, Martin went back to the drawing board, rewriting the lyrics to be a bit more hopeful and reminiscent. The song became an instant classic, especially with soldiers fighting in WWII, and the song reached #27 on the billboard charts.
Another song that topped the charts at #4 was "The Trolley Song." The songwriting team was struggling to find a song for Garland to sing while riding the trolley until they were doing research and found a turn-of-the-century newspaper article that included a picture with a caption that said "Clang, Clang, Clang goes the jolly little trolley," and a song was born! Before the film even hit theater screens, "The Trolley Song" had sold over half a million copies of sheet music and would go on to be nominated for an Academy Award.
Bonus Fun Fact: There was a song written by Rodgers and Hammerstein that was cut from the film. The song "Boys and Girls Like You and Me" was supposed to be sung by Garland to Drake while they toured the fair grounds after Trolley scene. The song did not have a lot of luck. It was originally written for Broadway hit Oklahoma! but was replaced by "People Will Say We're in Love." Arthur Freed purchased the screen rights to the song with hopes for it to be in Meet Me in St. Louis. After being cut from that film, it was cut yet again from Take Me Out to the Ballgame (1949) this time sung by Frank Sinatra. The song is truly lovely though. The footage from the sequence no longer exists, but you can listen to Judy Garland's version here.
Most songs were written specifically for the film but a few including "Meet Me in St. Louis," which was the song of the 1904 World's Fair, and "Skip to My Lou" were popular songs from the era that were updated to fit the storyline.
Speaking of storyline, the reason why this musical was so groundbreaking was because for the first time, the songs and lyrics were included as a way to move the story along. Most musicals at this time used music numbers to randomly showcase the singing and dancing talents of the stars, not necessarily to advance the plot. Meet Me in St. Louis gracefully intertwined the dialog with the lyrics of songs.
Box-Office Success
The world Premiere of the film was on November 22, 1944 at the Loew's State Theater in downtown St. Louis. The stars of the film unfortunately did not attend due to filming schedules, but the star attraction at the sold-out event was author and St. Louis native Sally Benson. Garland did attend the opening at the Loew's State Theater in New York two days later where she announced her engagement to Minnelli.
Days after opening in theaters, Arthur Freed knew he had a hug hit on his hands.
It became the most successful film for MGM since "Gone with the Wind" in 1939. The lavish musical production wowed critics and audiences alike then and now, and the film remains incredibly popular today with a 100% rating on Rotten Tomatoes.  It is ranked 10th on the American Film Institute's Greatest Movie Musicals, with two of its songs making their 100 Years…100 songs list – "The Trolley Song" at #26 and "Have Yourself a Merry Little Christmas" at #76.
Now, go meet the Smith Family at the 1904 St. Louis World's Fair. I promise, you'll be singing "Clang, Clang, Clang went the Trolley. Ding, Ding, Ding, went the bell. Zing, Zing, Zing went my heartstrings. From the moment I saw him I fell!"
Contributed by Chloe Seider, Program Coordinator and Classic Film Buff