Women's History Month
Who is Chloe? 
March is Women's History Month, and we have a special treat for you! Each Monday, Program Coordinator Chloe Seider will be dressing up as different important, influential, or impactful women from throughout US history.
–
Can you guess who Chloe is each week? Is she someone specific from Sheboygan or Wisconsin, or representative of a group of women from a unique time in history?
–
Visit the Museum on Mondays to see who Chloe is in person, or watch for a photo to be posted to our Facebook page and to this blog post. Then guess who she is! The answer along with some history will be posted later in the week. Those who visit the Museum in person on Mondays will have the special opportunity to enter their guess into a drawing. At the end of March, a winner will be drawn to receive Chamber Cash! You must visit the Museum on Mondays to be eligible for entry.
–
–
Week 1 – Monday, March 1, 2021
Hint: I am a local woman from Sheboygan County!
Answer
She is…Helen Brainard Cole (1838 – 1931) a beloved, local woman who served her country during the Civil War as one of the first female nurses.
–
Born in Oneida, New York on July 20, 1838 to Mark and Maria Brainard, the family moved to Sheboygan Falls when she was 7 years old. She married William Cole, the son of Falls Pioneer Charles D. Cole. She later became one of the first female nurses during the Civil War; a job that was traditionally reserved for men. While working at a hospital in Washington, D.C. she befriended President Abraham Lincoln and tended to his son Tad when he became sick. After the war, Cole became a popular national speaker and member of many patriotic organizations including:
• The National Association Army Nurses of the Civil War – Secretary
• Washington, D.C. chapter, Daughters of the American Revolution
• Daughters of Union Veterans (Local chapter renamed the Helen Brainard Cole Tent in her honor while she was still living) – Honorary president and chaplain
• Veterans of the Foreign Wars Auxiliary – Charter member
• Women's Relief Corps – Local and district chaplain and national delegate
–
Helen Brainard Cole passed away in Sheboygan on September 4, 1931 at the age of 93 due to a hip injury. The Helen Brainard Cole Tent (local chapter of the Daughters of the Union Veterans) erected a memorial in the form of a boulder in 1933. You can see it at the corner of Calumet Drive and N. 20th Street – next to the Citgo gas station and across from Cooper Elementary. It was designed to "ever be an inspiration to all who gaze upon it to emulate the noble acts and deeds of women, and is a fitting memorial to Helen Brainard Cole."
–
Pictured on the right is Helen Brainard Cole at a GAR Reunion ca. 1920s. Since we did not have a picture of her from the Civil War, also pictured are Sarah Low of Dover, New Hampshire (lower left) who also served as a nurse during the war, and Clara Barton who Founded the Red Cross (lower right) as examples.
–
Week 2 – Monday, March 8, 2021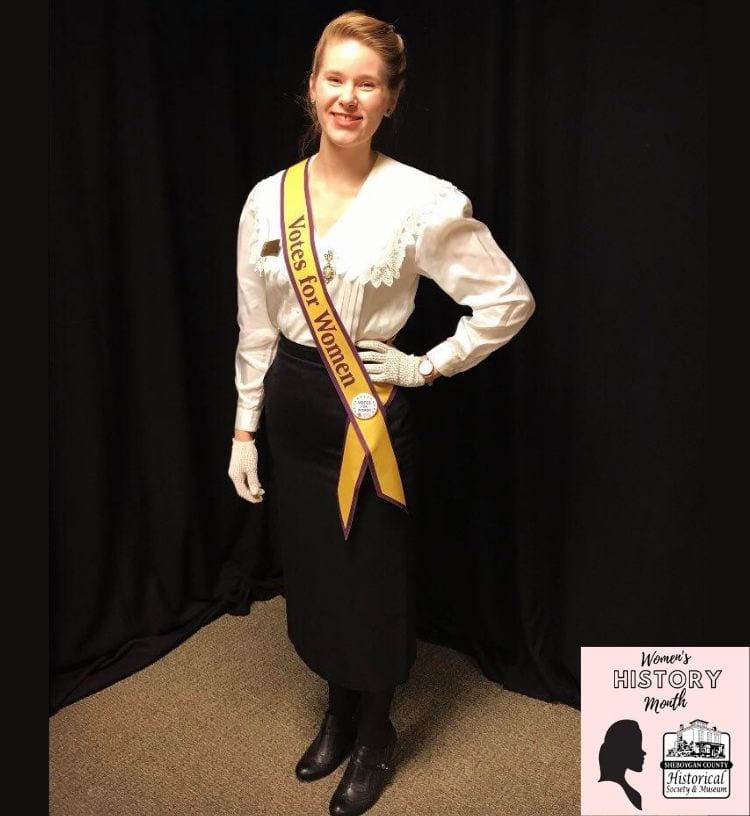 Hint: I am someone from Wisconsin, who had a personal connection to Wisconsin being the first state to ratify the 19th Amendment. 
Answer
–
She is…Ada James (1876 – 1952), a Wisconsinite who helped women win the right to vote using unprecedented campaign tactics, and had a personal connection to Wisconsin becoming the first state to ratify the 19th Amendment on June 10, 1919.
–
Ada Lois James was born in Richland Center, Wisconsin in 1876 to David G. and Laura (Briggs) James who were both actively supportive of rights for women including the right to vote. Laura helped start the Richland Center Woman's Club which is believed to be the first organization in Wisconsin to fight for women's suffrage. David was a state senator who introduced the 1912 bill that led to a statewide referendum vote to amend the state constitution and allow women the vote. The statewide referendum did not initially pass, which only motivated the family to work harder.
–
After graduating from the University of Wisconsin, Ada taught school before dedicating her life to activism:
• Wisconsin Woman Suffrage Association, vice president
• Political Equality League of Wisconsin, founder and president (1911-1913)
• Wisconsin Woman's Suffrage Association, member (combined with the above org.)
• Advisory Council of the Congressional Union for Woman Suffrage, prominent national member
• Wisconsin leader in the Women's Suffrage Amendment Movement, using unprecedented tactics including hiring a motorboat to distribute leaflets along the Wolf River, and an airplane to drop brochures on county fair crowds.
–
When Congress approved the constitutional amendment, states still had to ratify it to make it official. Ada James campaigned to make this a reality in Wisconsin and in June, 1919 Wisconsin voted yes. Her father was retired from the senate and 76 at the time, but requested to be the designated courier of the ratified document to Washington D.C. He received a special proclamation from the governor giving him permission, Ada gave him her pocketbook so he would have some extra money, and then he jumped on a train as the race to become the first state in the Union to ratify began. When he submitted the paperwork in D.C. he wisely asked for a receipt to prove that Wisconsin was truly the first to ratify. After celebrating outside the building with supporters, Illinois' courier rushed in only to learn they had lost the race.
–
After voting for the first time in the 1920 presidential election, Ada became the vice chairman for the Republican State Central Committee and president of the Wisconsin Women's Progressive Association. Ada later turned her attention to other activism opportunities, including promoting pacifism, birth control, and prohibition. She was also active in social work managing the David G. James Memorial Trust Fund for the relief of needy families in Richland County. She also helped start and then serve as chairman of the Children's Board of Richland County. Ada Lois James died in 1952 at the age of 76.
–
Pictured on the right is Ada James. Lower middle shows suffragettes who were picketing outside the White House in August, 1917 and were arrested for doing so.
–
Week 3 – Monday, March 15, 2021

Hint: Today, I am representing a group of women who were a part of the "Greatest Generation" vs. a specific woman.
Answer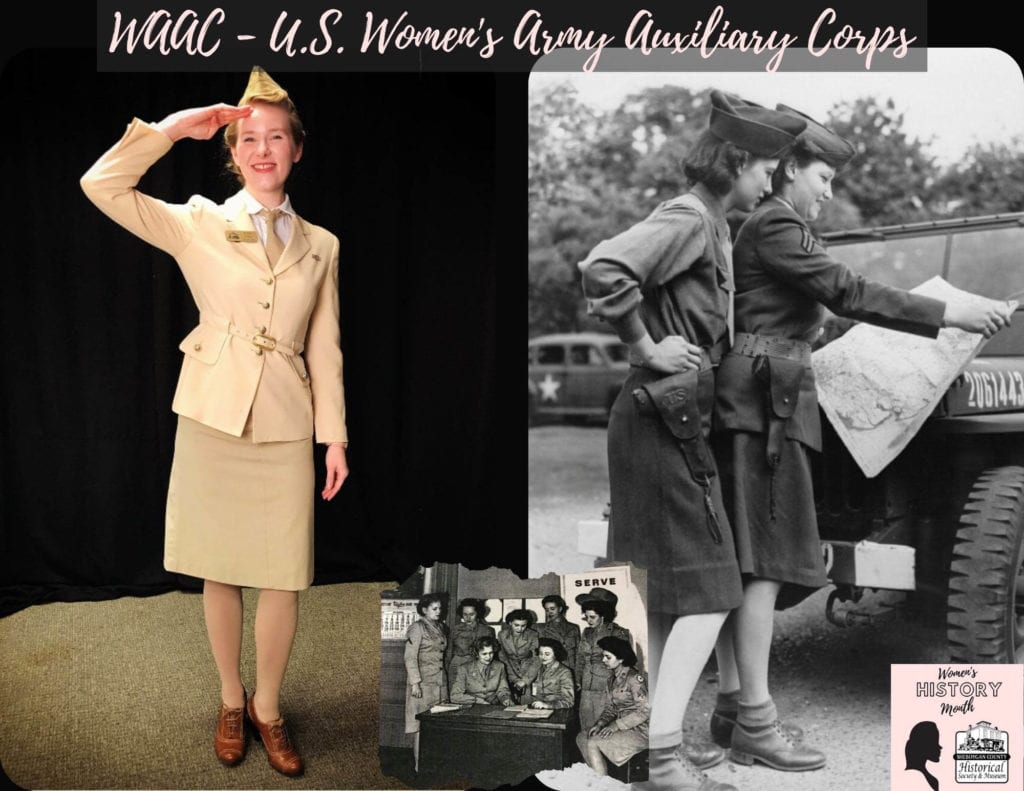 –
She is…a WAAC (later known as WAC), or U.S. Women's Army Auxiliary Corps member. Formed during World War II, WACs became the first women to ever serve in the ranks of the Army outside nurses.
–
May 1941, Rep. Edith Nourse Rogers of Massachusetts introduced a bill to establish a women's corps foreseeing that there may be a need as war rumbled through Europe. The bill had little momentum until Japan bombed Pearl Harbor on December 7, 1941 catapulting the United States into World War II. On May 15, 1942, the bill became law and the U.S. Women's Army Auxiliary Corps was established.
–
At first, the military and the American public were hesitant to having women in the Army until the idea was promoted that each woman serving would "release a man for combat." A WAAC drive was conducted in Sheboygan in July, 1943 (
pictured middle) with hopes of gaining 50 – 100 new female enlistments. In a Sheboygan Press article about the drive it said the WAACs had an "appeal because it can relieve men in key positions so that they can fight and victory can only be achieved if we all enter the contest. Every woman who enrolls in the WAAC releases a man for combat duty to the front. Every woman who enrolls sets a man free to strike at the enemy. Just three women enlisting could put a plane in the air which could bomb Tokyo."
–
The appeal to serve brought over 35,000 women from all over the country to apply for less than 1,000 original positions in 1942, causing the Corps to quickly grow. Due to this growth and their high reputation, the Army dropped the "Auxiliary" designation in July 1943 for the WAAC to become the WAC (Note: This change happened after the Press article was written). This allowed women to receive full benefits for the first time. The Women's Army Corps was an opportunity for many firsts. Women were serving in the ranks of the military for the first time with benefits and the chance for advancement in officer school, they were traveling the world serving in every theater during the war, and they were serving in non-combat roles that women had never before had the chance to do. They were breaking barriers in nontraditional jobs such as radio operator, electrician, mechanic, and air traffic controller. More than 150,000 brave women stepped into the unknown and served with distinction and honor during WWII. The WAC remained a separate unit until 1978 when male and female Army forces were integrated.
–
Week 4 –  Monday, 22, 2021
Hint: Today she is a part of a singing group and she is a specific member who was from Sheboygan! (Note: She was born in a different state but moved to Sheboygan at a young age) 
–
Answer
She is… Virginia "Jinny" Cole Janis (1927 – 2003), one of the original Sheboygan members of the Chordettes who is credited with organizing the female barbershop-style group in August 1946. The Chordettes made history when they became the first performers on Dick Clark's "American Bandstand" TV show in August 1957, and again in 1959 when they filmed a short video of themselves working in the kitchen while singing "A Girl's Work is Never Done," which is considered to be the first ever music video.
–
Born in Seattle, Washington, Virginia, who went by "Jinny," moved to Sheboygan, WI with her family at the age of seven. She attended Grant Elementary School and North High School and learned to love barbershop music from a young age. Her father, O.H. Cole (
pictured middle as the "barber"), was the president of the Society for the Preservation and Encouragement of the Barbershop Quartet Singing in America (SPEBQSA). He was also well known in the Sheboygan community as "King Cole" since he served as the president of the local Kingsbury Brewery. Inspired by her father's music, Jinny organized a few girls who liked to harmonize together into a barbershop quartet. Jinny, Dorothy Hummitzsch, Janet Buschmann Ertle, and Alice Mae Bushmann Phelps made their first public appearance as part of the barbershop program at North High School in September 1946. The Chordettes already had local and regional fame when they were catapulted to national stardom after winning the Arthur Godfrey Talent Scout competition in New York in 1949, earning them regular spots on Godfrey's radio and television shows for the next six years. In 1954, the group signed with Cadence Records where they released their biggest hits including "Mister Sandman" and "Lollipop." "Mr. Sandman" was No. 1 on the Billboard's charts for 7 weeks and received a Gold Record award in 1955 when it reached 1 million records sold. "Lollipop" topped the charts for 15 weeks, peaking at number 2. These two songs have become instantly recognizable to generations as they are still featured in movies, TV shows, commercials and more to this day.
–
The Chordettes were inducted into the Vocal Group Hall of Fame and Museum in Sharon, PA in 2001. Jinny spoke on behalf of the quartet saying that while they were probably the first barbershop act to make the pop-singing charts (14 times between 1954 – 1961), they didn't "contemplate" their place in musical history at the time. "It was just so thrilling for us…We were kids from Sheboygan, WI. I mean, nothing like this happened to us before. It was just so unbelievable. It all happened so fast and furiously that it was hard to keep an even keel." Other megastar groups inducted that year included the Bee Gees, the Four Freshmen, the Lennon Sisters, the Lettermen, the McGuire Sisters, the Oak Ridge Boys, and Smokey Robinson and the Miracles.
–
Jinny died May 19, 2003 in Palm Springs, CA at the age of 76. She will always be fondly remembered as one of Sheboygan's Songbirds. To learn more and to see the first ever music video, visit the "Harmonizing Heroines: Sheboygan's Chordettes" exhibit at the Sheboygan County Historical Museum.
–
Week 5 – Monday, March 29, 2021


Hint: Today she is a woman who was a major first in the highest court of law.
Answer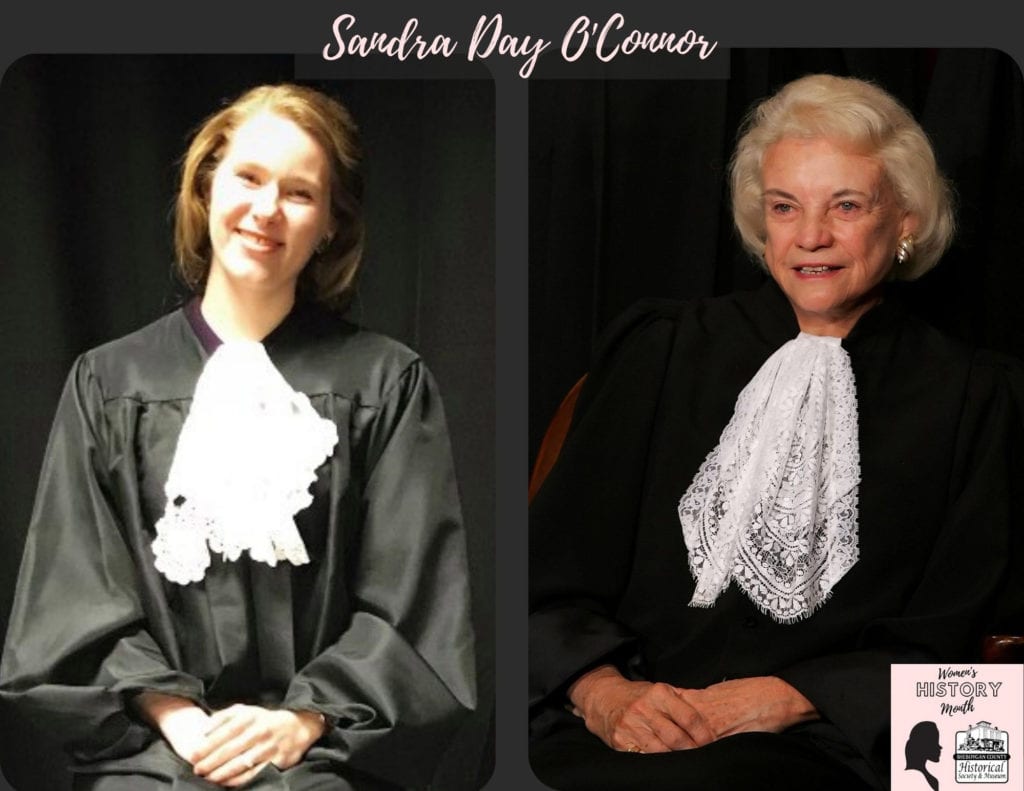 –
She is…Sandra Day O'Connor (b. March 26, 1930), the first female judge to be appointed and confirmed to the United States Supreme Court!
–
Sandra Day was born in El Paso, Texas March 26, 1930 and grew up on a cattle ranch in Arizona. Education opportunities for girls were limited near the ranch, so her parents sent her to live with her grandmother in El Paso so she could attend the Radford School for Girls. There she excelled and graduated two years early. At age 16 she enrolled at Stanford University and graduated Magna Cum Laude with a B.A. in Economics in 1950. Sandra continued on at Stanford Law School and finished her degree in two years vs. the normal three. While in school she met John Jay O'Connor III, and six months after graduation they were married. Sandra found it extremely difficult to find a paying job in the law field because she was a woman. She eventually began working as a deputy county attorney in San Mateo, California, but only after offering to work for no salary and without an office – she shared a space with a secretary. This continued until she proved herself and began receiving a small salary after a few months performing legal research and writing memos.
–
When John was drafted and Sandra decided to go with him to Germany. During their three years there, she served as a civilian attorney for the Army's Quartermaster Corps. They then returned to the states and settled in Maricopa County, Arizona to raise their family. Sandra later became the Assistant Attorney General of Arizona from 1965 – 1969. In 1969, the governor appointed her to fill a vacancy in the AZ Senate. She ran for and won the seat the following year. Then in 1973, Sandra Day O'Connor became the first woman to serve as Arizona's, or any state's, Majority Leader. A major first for women in politics. During her time in this role, she developed a reputation as a skilled negotiator and moderate. After two full terms, she decided to leave the Senate to return to law. By 1979, she was elevated to the Arizona State Court of Appeals. While serving on the bench, she received a call from President Ronald Reagan. Reagan had pledged during his 1980 campaign to appoint the first woman to the U.S. Supreme Court, and on August 19, 1981 he officially nominated Sandra Day O'Connor as Associate Justice of the Supreme Court to replace the retiring Potter Stewart. Upon her nomination, O'Connor was confirmed unanimously by the Senate. During her tenure on the Court, she was considered one of the most powerful women in the world. Sandra retired from the bench in 2006 to care for her husband who had been diagnosed with Alzheimer's disease. Since retirement, she has been actively advocating for educating America's youth on how to get involved with civics and government. On August 12, 2009, Sandra Day O'Connor was awarded the Presidential Medal of Freedom by President Barack Obama.
–
–
Well folks, it's been fun! I have really enjoyed dressing up each week and I hope that you have learned as much along the way as I have
  I'm already looking forward to next year so I can bring some more fun historic/vintage pieces out of my closet to play. Believe it or not, some of these outfits would not be acceptable for every day wear. My prom dress certainly got some raised eyebrows. But I got a lot of credit from my coworkers for wearing each outfit, including at times rather uncomfortable shoes, all day long! I took "Fashion Statement" to a whole new level at the Museum! There is a plaque I have on my dresser at home that my mother gave me, that sums up my attitude.
"Playing dress up begins at age 5 and never truly ends."